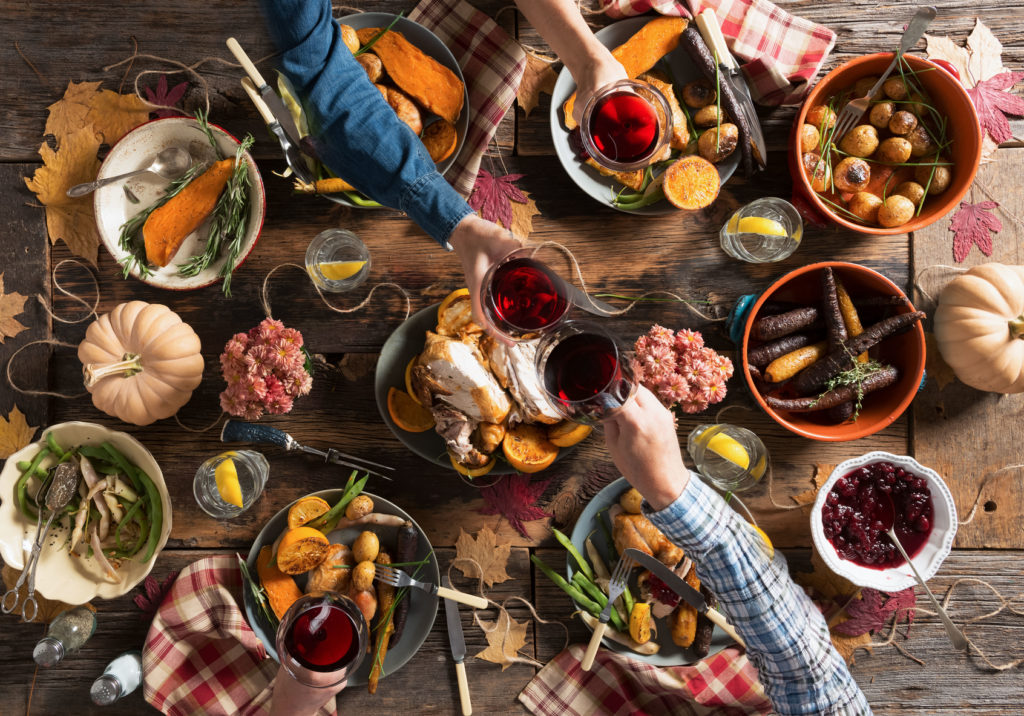 Let's all agree — hosting Thanksgiving dinner can be an overwhelming experience. You can expect exhausted travelers and die-hard football fans mingling with rowdy children and grandparents who love to exchange loaded jabs with each other as loud as possible. On top of that, choosing the best wines to serve for the big day presents its own set of complexities given the abundance of textures, tastes, and aromas overlapping throughout the menu — not to mention individual preferences.
Whether you choose to pour a few wines throughout the meal, or serve a different variety with each dish, plan ahead and make sure you have an ample supply of wine on hand.
To help make this easy, our Master Wine Team crafted a start-to-finish Wine Survival Guide for hosting an extraordinary Thanksgiving dinner. From pairing wines with traditional dishes to giving a thoughtful toast and deciding which glassware to use — we've got you covered.
Break Out The Bubbly
Once most of your guests have arrived (there will always be stragglers) kicking off the celebration a sparkling wine is guaranteed to set a festive tone. Consider saving an extra-special bubbly for a thoughtful toast to kick off the meal, which is a great way to formally welcome your guests and to make everyone feel comfortable while breaking the ice of conversation — especially for large groups. Here are a few of Vanessa Conlin's favorites: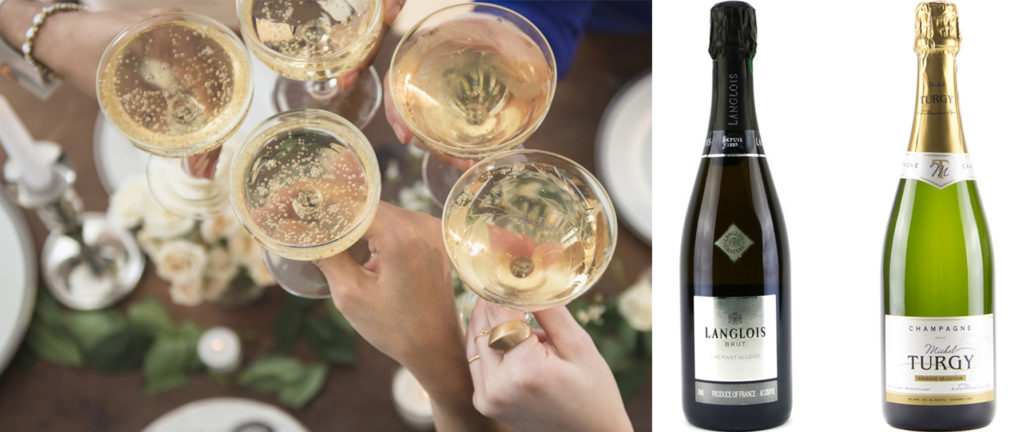 While "true" Champagne from the region of Champagne in France is the gold standard, a less expensive sparkling wine from a different high-quality region may be a better fit for your dinner party. This Langlois-Chateau Crémant de Loire is a sparkler made in the traditional Champagne method but hails from the Loire Valley. The aging requirements for Crémant are lower than Champagne, which means there is less focus on the yeasty, toasty, brioche notes that you get from Champagne and a little more focus on the fruit. The Langlois-Chateau Crémant de Loire has nice complexity and falls perfectly in the middle.
The Michel Turgy Reserve Selection Blanc de Blancs Grand Cru is a beauty of a sparkler from the hallowed soils of Le Mesnil-sur-Oger, a region that is prized for focused and chiseled Champagne, with taut acidity and chalky minerality. This Champagne feels luxurious but is a fraction of the price of neighboring bottlings from the region like Salon or Krug's Clos du Mesnil. If you start the evening off with the Langlois Crémant, you could segue into dinner with this as your "toast" bubbly.  
Wine For The Main Course
A traditional Thanksgiving meal involves a wide variety of flavor profiles: savory, sweet, tart, umami, and beyond. The staples — roasted turkey or ham, savory sweet potatoes or yams, tart cranberries, rich mashed potatoes, and sweet pumpkin or apple pie — all have the potential to overpower a wine. So, it's important to choose wines that complement the main flavors of a dish and elevate your experience from bite to sip to bite — without overpowering each other. Consider these two selections, which our Master Wine team assures will do the job: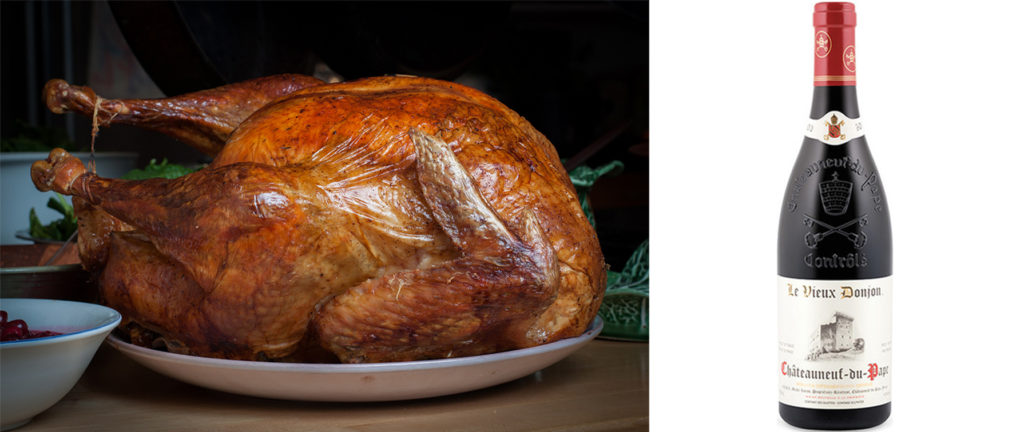 "Thanksgiving is the first real sign of winter weather," says our Master of Wine Matt Deller. "I start looking for warm, cuddly reds with lots of flavors. With the Thanksgiving meal, there are so many hearty flavors, that my ideal wine is a Châteauneuf-du-Pape. It has the softness of tannins to glide down nicely with lean meats like turkey, and the accompanying vegetables, yet the richness and layers of red fruit, dried herb and savory flavors to shine with gravy and stuffing. I look forward to enjoying the 2014 Le Vieux Donjon Châteauneuf-du-Pape from very old vines, which gives it added richness."
"My go-to wine to tackle the Thanksgiving wine-pairing challenge has always been Beaujolais," says Vanessa Conlin. "It is dry, but has a fresh berry and floral character that can hold its own at the table — its supple tannins won't overpower the turkey. The 2015 Anne-Sophie Dubois "l'Alchimiste" is from Fleurie — one of the Crus of Beaujolais known for producing wines that are aromatic, floral, and elegant. It will definitely be at my table this year!"
Pie Pairing Done Right
Fortified wines are the key to a delicious wine and pie pairing. Here are our recommendations for two classic Thanksgiving sweet treats: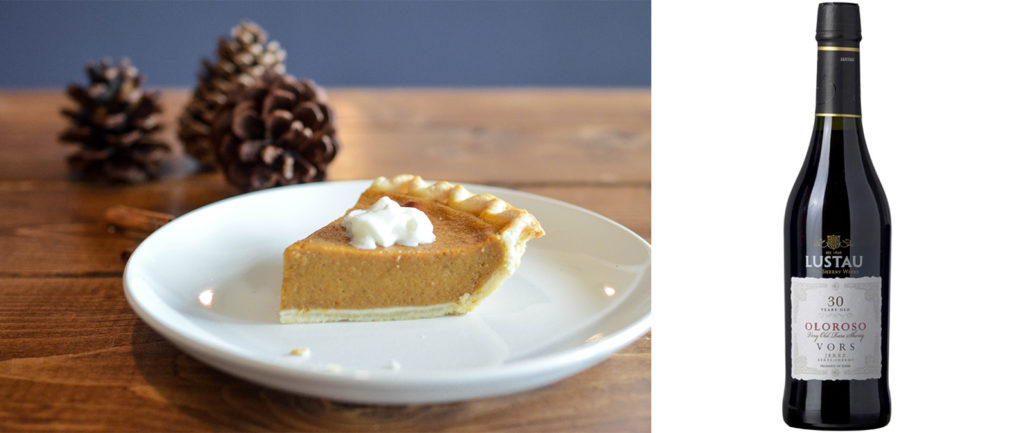 Pumpkin Pie Pairing: Lustau VORS Oloroso 30 Years Old (500 mL)
"I'm a huge believer in long-aged, dry Oloroso sherry. The aging process gives it evaporative concentration and remarkably complex layers reminiscent of all that is great about autumn. Flavors include walnuts, espresso, prunes, chocolate, cinnamon, and mulling spices." — Matt Deller, Master of Wine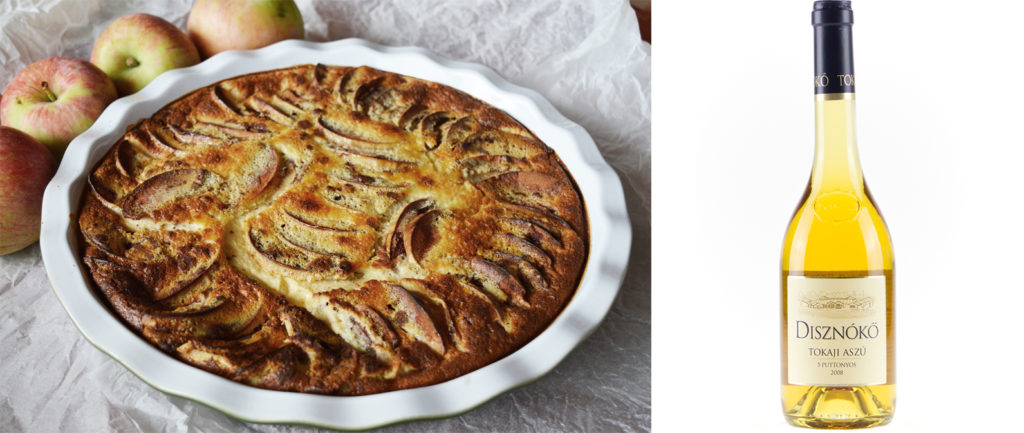 Apple Pie Pairing: 2008 Disznoko Tokaji Aszu 5 Puttonyos
"What is there not to love about apple pie? It's warm, flaky, buttery, yet bright and lively, but not too sweet. When I think of this classic American dessert, I reach for one of the original sweet wines produced in Old World Europe — a Tokaji. This golden dessert wine has been consumed by kings, popes, and members of the aristocracy for hundreds of years, but they probably weren't lucky enough to pair it with apple pie! It is made with a combination of fresh-pressed grape juice (primarily from Hungary's Furmint grape) along with grapes affected by botrytis, which concentrates sugars in grapes making them super sweet with golden-honeyed flavors. This combination of fresh and sweet juice, blended at different times during the winemaking process adds depth, richness and honeyed complexities to Tokaji wines. The result for this 2008 Disznoko is a beautifully aromatic wine with intense flavors like candied orange peel, dried apricot, pineapple, wildflower honey, jasmine flower, green fig, and white mushroom." — Sur Lucero, Master Sommelier
A Note on Serving Temperatures and Glassware   
Don't forget a few other key "ingredients" to a successful Thanksgiving party.
A lot goes into hosting Thanksgiving, and the preparation of food, but serving wine in extraordinary glassware and at the right temperature will elevate your guests' memorable experience from "totally satisfied" to "mind-blown."
Follow this guide if you are pulling bottles from the cellar or a wine fridge, but for those of you who do not store wine in either, consider popping reds in the fridge for 20 minutes before serving and 40 minutes for whites (if you can make room!).
Best Serving Temperatures by Variety:
White Burgundy/Fume Blanc: 50-55°F

Muscadet, Pinot Grigio, Sauvignon Blanc, Fine Sherry: 45-50°F

Sauternes other sweet wines: 43-45°F

Champagne, Cava, Asti, Sparkling: 43-50°F

(Light bodied reds) Beaujolais, Bardolino, Valpolicella: 55°F

Medium-Full Bodied Reds (Claret, Red Burgundy, Rioja, Shiraz, Chateauneuf du Pape, Barolo, Amarone, Port, Cabernet Sauvignon): 59-64°F
Best Glassware by Variety:
You can get away with three to four shapes of glassware on your Thanksgiving table. Here are a few of Matt's tips to make sure you're choosing the right one: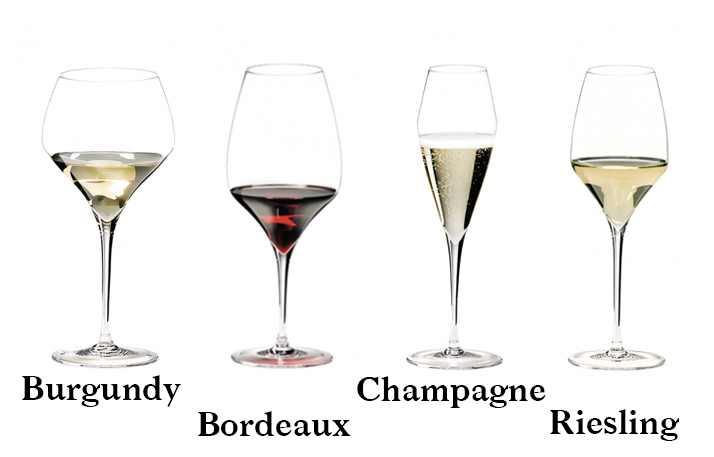 Burgundy Glass. Most wines that are in Burgundy shaped bottles (sloped shoulders like a Chardonnay bottle), perform better in the balloon-shaped Burgundy glasses. Note: Pour your Champagne or sparkling wine in this glass! Flutes are not always the ideal glassware to sip bubbles out of. The tall, skinny shape of the flute limits oxygen and diminishes champagne's aromas and flavor profiles. For guests who want a larger surface area for vintage champagnes or more powerful and developed styles, reach for either a Bordeaux or Burgundy glass.
Bordeaux glass: Wine in a Bordeaux bottle (slimmer high-shouldered) show their best in Bordeaux glasses. One of each can suffice at the table per person.
Champagne flute or white wine glass: For off-dry and sweet wines, Champagne flutes work nicely, but I recommend an elegant, small white wine glass to enjoy my sweet wine in and even some richer styles of Champagne.
If you're in need of a simpler one-stop solution for the big day, we offer a Thanksgiving wine set, with alternative selections hand-picked by our Master Wine Team — and best of all $51 off our normal price with this set. Most importantly, we hope you have a wonderful time enjoying great wine and food with family and friends this holiday season.