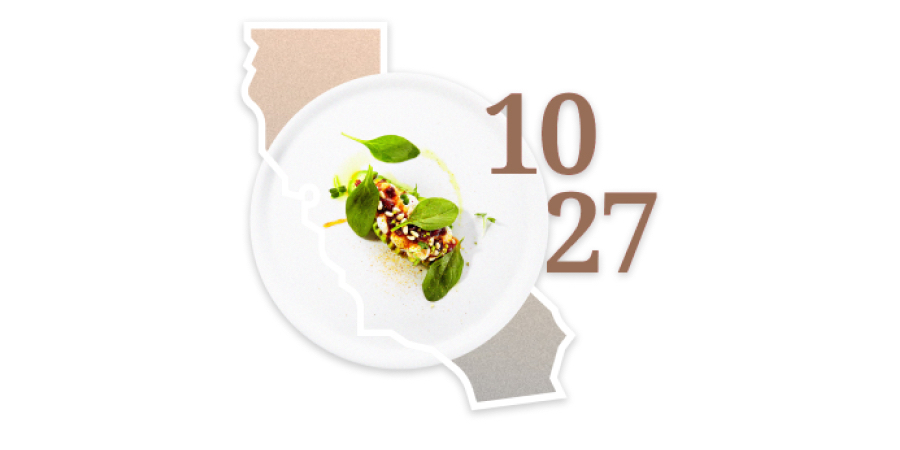 Many of the world's most coveted wines, those made in tiny quantities by iconic producers, end up in the cellars of the world's greatest restaurants—those culinary temples of inspired, haute-cuisine, found only within the sacred pages of the Michelin Guide. We've always taken great pride in securing a handful of cases, or even a handful of bottles of those highly-sought-after wines that are annually earmarked for the gatekeepers of Michelin restaurant wine lists. 
Now we have the honor and privilege of announcing that we've partnered with the Michelin Guide! We provided the wines for Michelin's inaugural "Family Meal" virtual live event on October 27, recognizing the world's best restaurants. We worked directly with Michelin-3-Star SingleThread's Wine Director Rusty Rastello, who chose wines from our Wine Access portfolio to pair with the multi-course Family Meal menu designed by Chef Kyle Connaughton.

For one dish featuring Kanpachi with pomegranate, mizuna, turnip, and Yuzu, Rastello chose the 2019 Massican Winery Napa Sauvignon Blanc. "I find California, unoaked Sauvignon Blanc pairs beautifully with Yuzu," says Rastello. With a dish of Sonoma grains, Wagyu short rib, pickled ramps, maitake, and beef consommé, Rastello chose the 2016 Château de Nalys Châteauneuf-du-Pape, which matches "the weight of the dish while playing up the earthy, savory elements," Rastello says.
Each year, SingleThread partners with a winery to create an exclusive bottling for the restaurant. Their latest collaboration resulted in the 2016 Brick & Mortar Block House Vineyard Brut Rosé from Napa Valley. Rastello says he looks for "nervy, vibrant sparkling wines," to pair with their Hassun—a complex and extravagant array of fresh seafood and vegetables from their farm. "In my opinion, Brick & Mortar is producing some of the most exciting sparkling wines in California," adds Rastello. 
Remember we said that this Brut Rosé is available only at SingleThread? Not anymore—we negotiated a handful of cases to offer exclusively to Wine Access members!  
The full menu for Family Meal featured an impressive lineup of wines. "The MICHELIN Guide looks forward to partnering with Wine Access to bring exclusive wines to our community of food lovers across the United States," says Ryan Hilley, Michelin Guide Experiences Manager for North America. Although this event is normally restricted to a single dining room audience, "Family Meal" was open to a larger online audience in 2020, and we're honored to partner with MICHELIN—and thrilled to invite you to Shop Our Exclusive Michelin-Guide Family Meal Wines.
Exclusive Michelin-Guide Family Meal Food & Wine Pairings
Sparkling Toast
2016 Brick & Mortar Block House Vineyard Brut Rose Napa Valley
SingleThread Farm Tomatoes and Kanpachi Sashimi
2019 Massican Winery Sauvignon Blanc Napa Valley
Duck Liver Parfait with Salanova Lettuce, Black Sesame, and Chicory
Katafune Tokubetsu Honjozo Genshu Niigata
Summer squash – Spot Prawn, Squash Blossom, and Prawn Head Broth
2017 Dutton-Goldfield Chardonnay Walker – Hill Vineyard Green Valley of Russian River Valley
Roulade of Guinea Hen with Grain Porridge, Komatsuna, and Matsutake Mushroom
2018 Kistler Vineyards Pinot Noir Sonoma Coast
Sonoma Grains – Wagyu Shortrib, Pickled Ramps, Maitake, and Beef Consommé
2016 Château de Nalys Châteauneuf-du-Pape Saintes Pierres de Nalys
Roasted Pumpkin, Miso and Barley Malt
2007 Chateau Suduiraut Sauternes Premier Grand Cru Classe (375 mL)