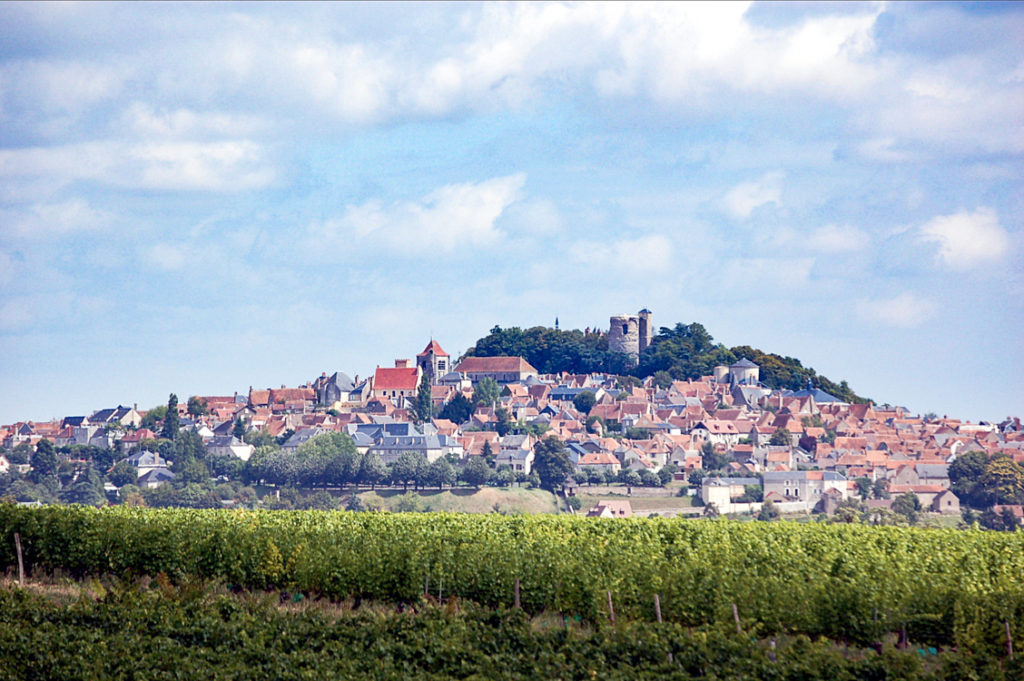 story by Rachel Signer
The name "Sancerre" is practically a brand in itself, a nearly ubiquitous glass-pour at restaurants all over the world. This relatively small region, situated within the eastern boundaries of the Loire Valley, is just about a two-hour drive south of Paris. The stunning quality of its wines are the result of what lies just beneath the surface — some of the most unique soil compositions in the world.
Sauvignon Blanc vines rooted on dramatic slopes full of ancient, chalky limestone soils, deliver one of the most singular expressions of the variety, producing crisp, mouthwatering white wines of finesse with serious structure and aging potential.
Ancient Soils of Sancerre
During the Jurassic Age over 50 million years ago, France was underwater, and Sancerre—along with Chablis, and the Côtes des Bar in Champagne—formed what's called the Kimmeridgian basin. Incredibly, winemakers in these regions still dig up fossilized oyster shells from that time period.
Winemakers know that the limestone soils of Sancerre are key to producing world-class wines—but it's more nuanced than that. Three types of limestone soils comprise Sancerre's terroir:
The terre blanche, Kimmeridgian white earth made of compact chalk, is found in the western part of the region and delivers fruitier, yet strongly acidic, and age-worthy wines.
More downslope, the Oxfordian limestone soil known as les caillottes features large pieces of gravel, and offers richer, perfumed wines; and on the eastern part is a narrow band of Silex (flint), whose wines are marked by structure and minerality.
White and Red: Wine Styles of Sancerre
The wines of France, are classified into AOCs (Appellations d'Origine Contrôlée), which dictate laws that specify which grapes can be grown and how wines must be produced from region to region — all with the aim of ensuring the authenticity and style of the region's wines. The AOC for white Sancerre was one of France's first; the appellation for red Sancerre came later, in 1959, permitting Pinot Noir to be used for both red and rosé wines.
Most white Sancerre wines are unoaked, but some producers do prefer using neutral barrels to provide structure to wines made from their most choice parcels. In some cases, the wines are not only barrel-aged, but barrel-fermented. These oaked wines merit aging, and can display flavors of smoky or grilled peaches, complimented by wisps of vegetal notes, and stand up nicely to richer foods like creamy pastas, roast pork, and spicy curry.
Red Sancerre (Sancerre Rouge) is beloved for its delicate perfume and soft structure; in fact, prior to the devastating phylloxera epidemic of the 1800s which obliterated vines in France and Europe, Sancerre was actually known more for producing Pinot Noir than for Sauvignon Blanc.
Sancerre wines—whether unoaked or barrel-aged whites, or bright, mineral reds—are incredibly versatile with food. But there's one special pairing in particular for these wines: goat cheese.
In the earlier part of the 20th century, before Sancerre's popularity had skyrocketed, grape farmers also would typically produce goat cheese—the rocky hills of Sancerre are a natural habitat for these animals. Today, growers are more focused on winemaking, but the traditional pairing of the region's famed Crottin de Chavignol cheese, a round, slightly firm, natural-rind cheese with a nutty flavor, alongside a good Sancerre, cannot be topped.
With a few sips, the refined and singular wines of Sancerre just might seduce you into a lasting affair with their many complex expressions of ancient soil.
Notable Sancerre Producers and Cru Vineyards
Within Sancerre, the village of Chavignol is much prized for its terre blanche soil—particularly its three designated crus, Les Monts Damnés, Clos de Beaujeu, and Le Grande Côte—and producers often bottle these wines separately to emphasize the terroir. Fourth-generation winegrowers Anthony and David Girard make a stellar wine from 70-year-old vines on Les Monts Damnés, a site named as such—literally, the "cursed mountains"—because its intense steepness induces vertigo and makes vineyard work incredibly laborious. A wine like this can be cellared for 10 years or more.
For stellar examples of unoaked white Sancerre, look to producers like Lucien Crochet, Domaine Jean-Max Roger, Chaumeau-Balland, Pascal Jolivet, and Domaine Thomas-Labaille, where the wine's minerality and freshness are balanced out by extended lees contact, resulting in wines that are perfect for pairing with oysters or shellfish. By contrast, Gérard Boulay and François Cotat are amongst those using oak to ferment or age their white Sancerre.
For terrific reds, look for Domaine Vacheron's "Belle Dame" cuvée, from a single vineyard on Silex soil and fermented in oak, or the various single-vineyard Pinot Noir expressions from Vincent Pinard and Jean-Max Roger. None of these highly regarded producers treat Sancerre rouge as an afterthought—rather, they take a Burgundian approach to making these wines, considering the terroir and allowing for long vinification. Of course, there's also Sancerre rosé, also made from Pinot Noir.