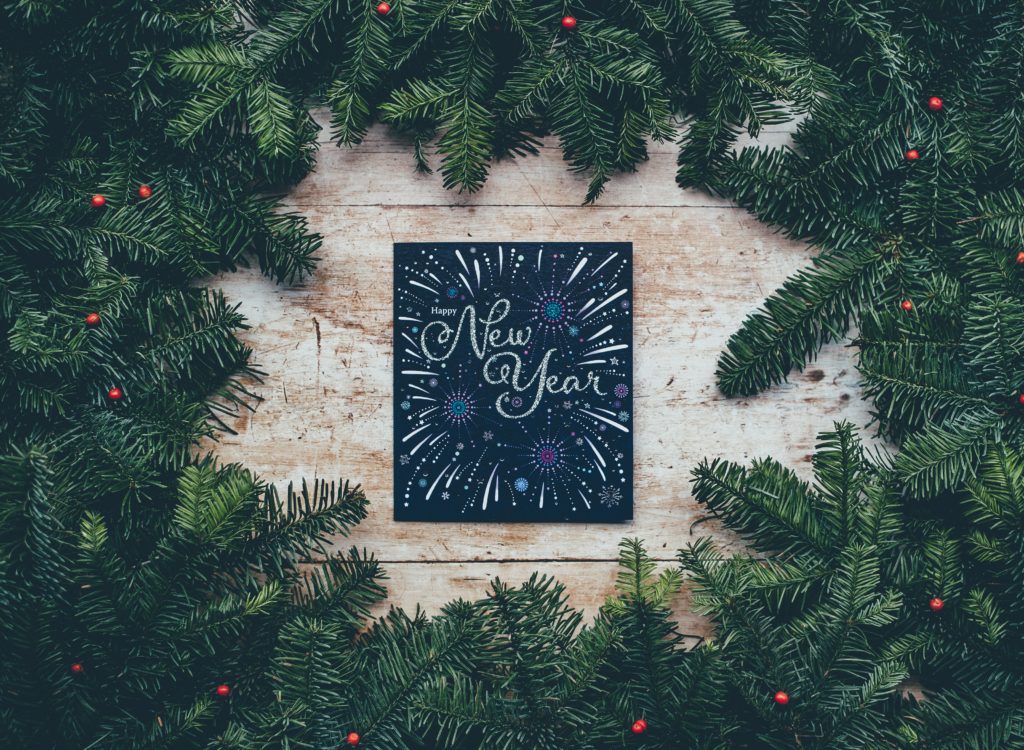 story by Rachel Signer
This year, as December rolls to an end and everyone gets ready to watch the ball drop, you scrunched up your nose at all the overpriced, prix-fixe options at restaurants in town and invited over a crowd of friends and their significant others for an intimate, lively New Year's Eve gathering — and you're determined to drink the greatest wine. Bravo to you. Life is too short to bother with uninteresting wine.
Wherever you are in your wine journey at the moment — whether you've only recently been diving into its many complexities, or are working your way through a well-stocked cellar — New Year's Eve is a great opportunity to appreciate wine's magical ability to deepen friendships and mark a special occasion in the most memorable way.
Here are a few tips to guide you through a wine-soaked New Year's Eve gathering.
Don't Make Champagne Your Aperitif!
Want to blow your guests' minds? Reverse their expectations. Instead of simply handing them a flute of Champagne, save your nicest bubbly for the meal or when snacks are out, and let them enjoy it as it's meant to be served — paired with delicious food and great conversation.
Earlier in the night, keep it simple and get the energy going with the ultimate party starter: a spritz. Simply pour Campari (1oz), sweet vermouth (1oz), and Prosecco (3oz) into a rocks glass, using your bar jigger to measure, build the drink in the glass over ice, and garnish with an orange slice. Edgier options, if Campari feels tired: Rondò, an organic elderberry-based aperitivo herbal liqueur; or Vergano Americano, a similarly made product derived from Grignolino grapes.
No Plastic Cups at this Soiree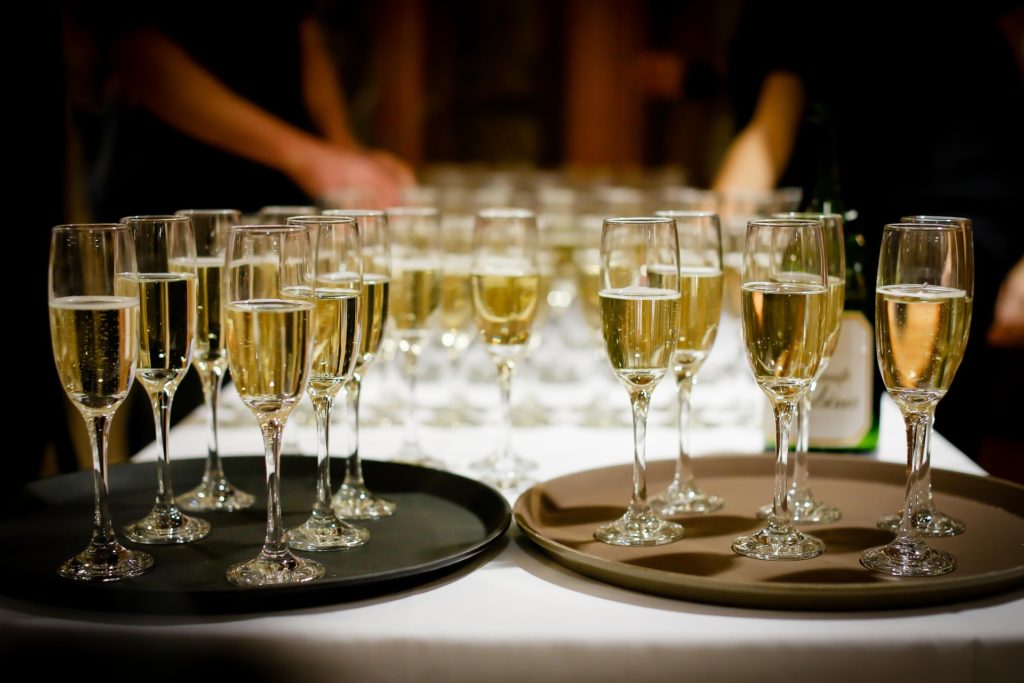 It's New Year's Eve, and you're welcoming in the year in style — meaning, no red Solo cups, please. Hand everyone a proper glass as they walk in (tip: Schott Zwiesel is just as elegant as Zalto or Riedel, but nearly foolproof thanks to the glass being significantly thicker). If you're using stemware, it's really helpful to attach little trinkets to the stems to help people identify their glasses as they are moving around the room. (Otherwise, the evening becomes a constant game of, "Is this my glass or yours?") Or here's a DIY option: get some colorful permanent markers, and draw little symbols on the base of the glass.  
The Finger Foods
Whether you're starting with a cheese and charcuterie board, or croquettes, or oysters, you want the perfect wine pairing. You can serve something special but still affordable at this point in the night.
Look for a good Crémant (traditional method French sparkling wine, made in the same style as Champagne, but not from the region) such as the very dry, Extra Brut Crémant d'Alsace from Zusslin, or for a slightly richer style, the Crémant de Loire Vouvray Brut from Foreau.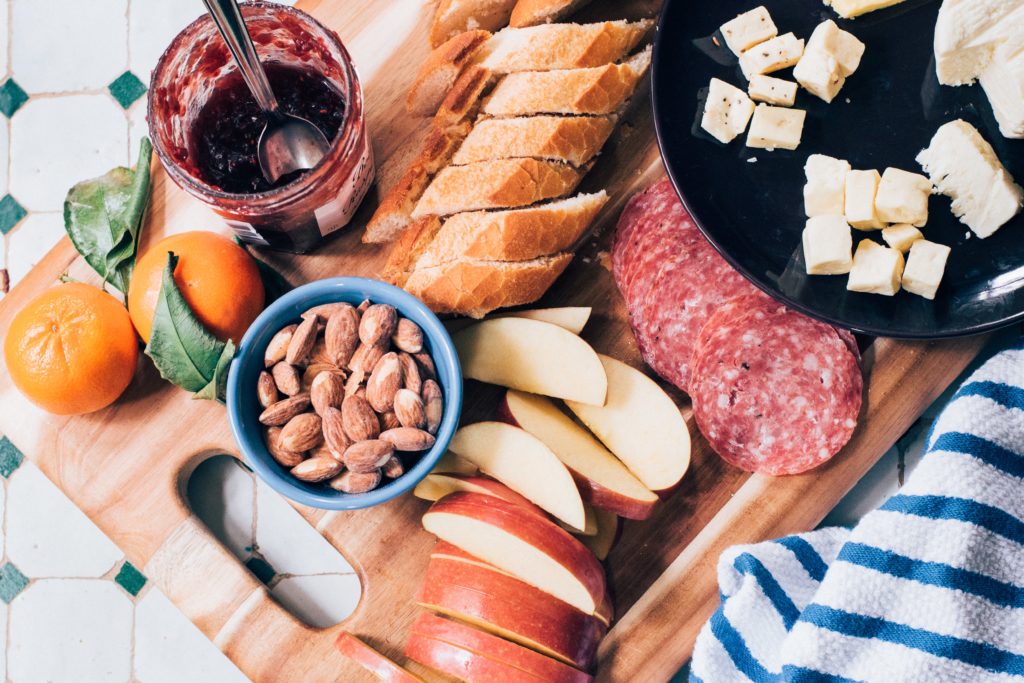 It's always fun to serve something more left-field, like a Franciacorta, Northern Italy's traditional-method sparkling answer to Champagne and Cava; look for boutique producers like Mosnel or 1701 Franciacorta for some of the best expressions.
The food doesn't need to overwhelm the wine — just complement it. Creamy cheeses and good, artisanal crackers or rye bread are always a win. Flatbread with rolled-out frozen crust, topped with sliced zucchini, goat's cheese, and fresh herbs, can be mostly prepped ahead of time, and baked just before serving. You want to be out in the party enjoying yourself, not in the kitchen all night.
Dinner Is Served
To follow up on the last point: don't slave away behind a stove. Try this practical, classy approach, from Nancy Benussi, general manager and sommelier at Philadelphia's Royal Boucherie: "If I were to host a New Year's Eve gathering at home, it would be a low key affair with my closest food and wine-loving friends. Our best parties are when food is progressively placed around the house on trays, rather than a buffet table." Benussi says that, while it's fun in some settings to do thoughtful wine pairings, on a night like New Year's, "switching drinks is not always conducive to socializing — so choosing wines that will work with a variety of foods is key!"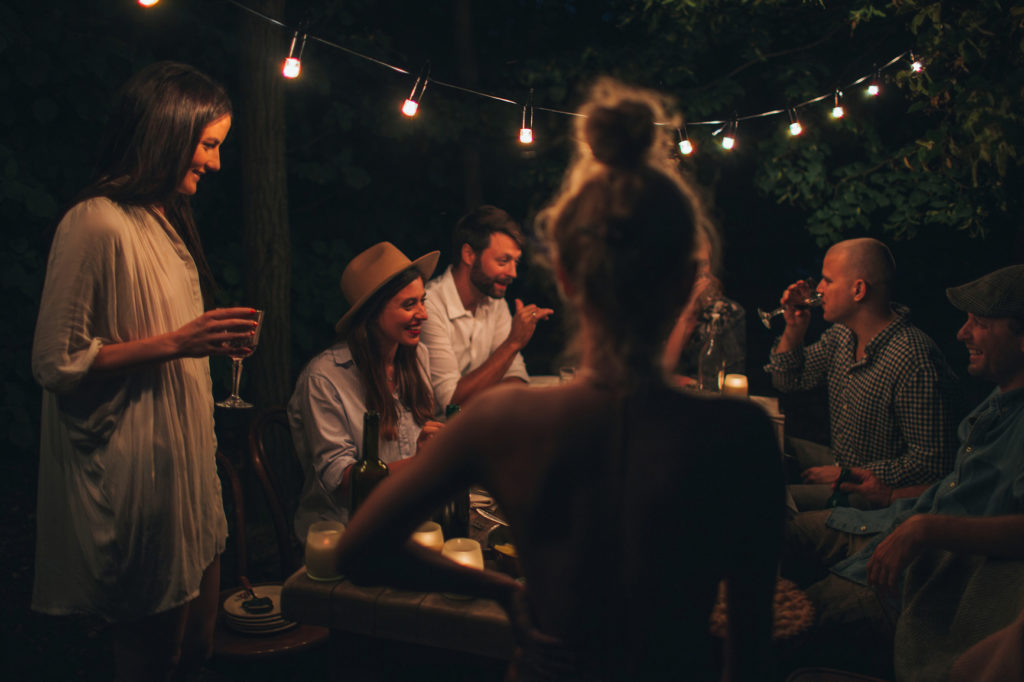 Thinking ahead to her own upcoming New Year's soiree, Benussi has set aside wines that she and her friends love. "Our friends Mary and Matt will arrive and bring their famous New Year's kielbasa and sauerkraut," she says. "Mary shares my love for interesting Alpine whites." Accordingly, they'll be sipping on Wieninger's 2015 "Nussberg Alte Reben," which is "an Austrian field blend of mostly Pinot Blanc, referred to as 'Vienna in a glass,'" says Benussi. "It goes great with the cheese and kielbasa," as well as other dishes she's scheming up with her chef husband, including "seafood starters of crab legs, baked scallops, and shrimp cocktail."
What to Drink with Food
Make things easy on yourself for the dinner wines: put out a selection of interesting whites on one end of the table, interesting reds on the other — all at room temperature is fine but if you've got ice bucks for both, a chill on each will be most welcome — and uncork them while your guests can come over with their glasses, thirsty and perhaps curious to ask some questions. People who want to learn more can let you tell them about the wine, while others can simply enjoy.
An easy option that pairs with nearly all foods: a light red like Beaujolais, the perfect drink to get people's palates warmed up. If you serve a Cru Beaujolais like Fleurie, Morgon, or Moulin-à-Vent, you'll show people that they've walked into a stylish scene. Again, it's best to have the wines just a touch chilled — half an hour in the fridge will do. Benussi's Philadelphia friends are big fans of Chianti, but of course, she likes to throw in a wildcard here: "I'd be excited to introduce them to 'Umbrian Chianti," she says, referring to red blends from a neighboring part of Italy that are similar to Chianti from Tuscany. Her pick is the Terre Margaritelli "Roccascossa" 2015, made of Sangiovese and Cabernet Franc — "it's great with tomato sauce and its subtle smokiness pairs well with sausage and kielbasa too."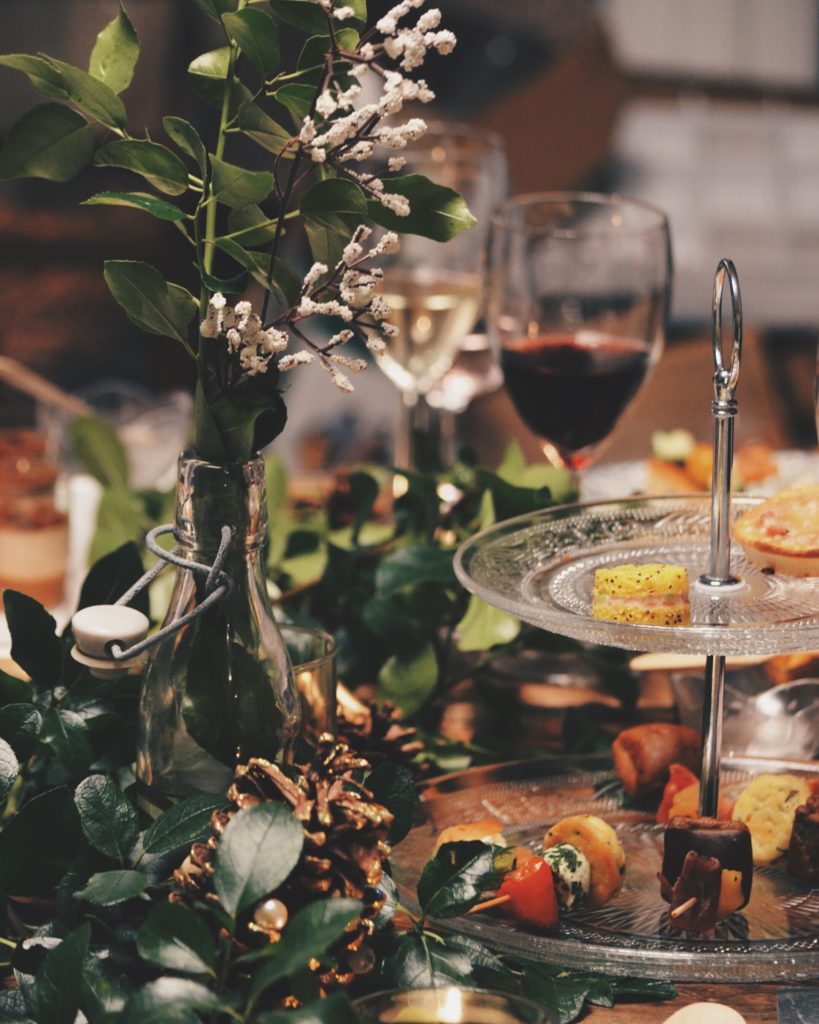 For whites, hold off on the crisp, lean stuff, and invite your guests to try something lush and round, with age. White Rhône and white Burgundy can be stunners in winter. Don't serve them fresh out of the fridge — rather, just below room temperature is ideal for their aromatics. And if you'd prefer not to break the bank, look for more affordable appellations — if you're drinking a good producer, the basic Bourgogne Blanc appellation, made of 100 percent Chardonnay from anywhere in Burgundy, will do.
If you're feeling up to a white wine splurge, look for Northern Rhône collectors' bottles such as Dard & Ribo Hermitage Blanc or Domaine Georges Vernay Condrieu; or seek out cult white Burgundy from the likes of Antoine Jobard, Jean-Marc Roulot, Domaine Leroy, François Mikulski, or Dominique Lafon. For a showstopper from the Southern Rhône look for something like Château de Fonsalette, the sister label of Château Rayas. And there are many gorgeous, single-vineyard Rieslings from Alsace that will completely defy any misconceptions about the grape (such as: it's sweet, or boring) — try Zind-Humbrecht or Trimbach for some classics that never fail to excite the palate.
Courtney Olson, wine director at California's three-Michelin-starred fine dining establishment Coi, takes advantage of her beautiful surroundings and goes "glamping" for New Year's Eve. For dinner, she and her lucky friends enjoy a menu of grilled California sturgeon, roasted golden chard, and fingerling potatoes, paired with a magnum of rosé Champagne "from the master of finesse and power, Egly-Ouriet," she says, naming a beloved grower. "His Grand Cru Brut NV guarantees an unforgettable evening under the stars celebrating with loved ones."
Midnight Magic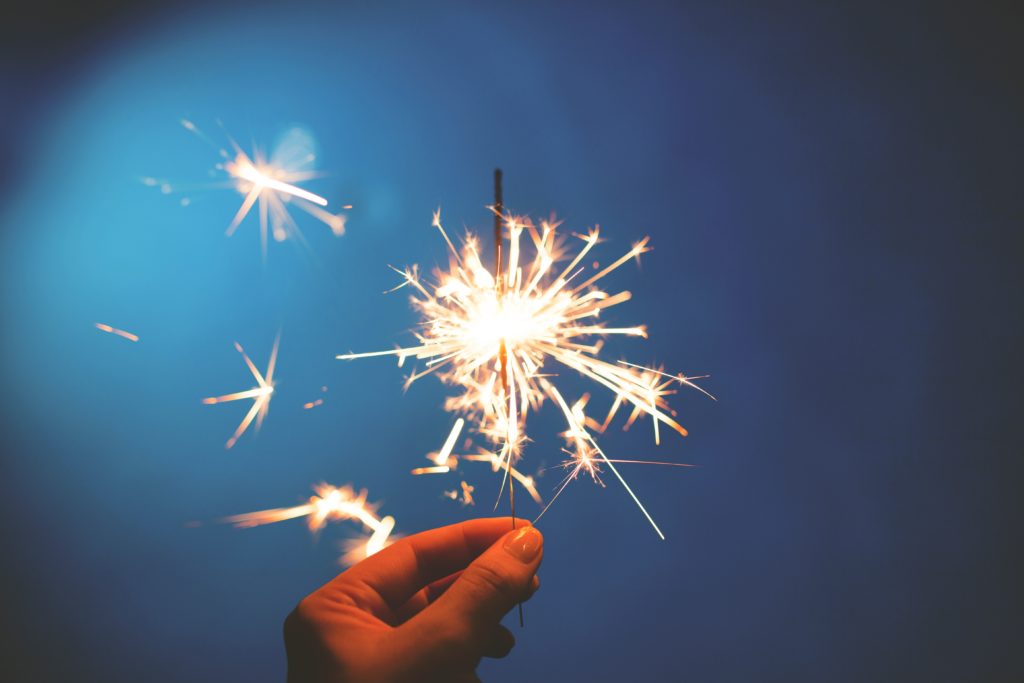 Bubbles are classic for the countdown. Don't hesitate to serve Champagne you really love, such as single-vineyard Grower Champagnes, or vintage bottlings from beloved houses, such as the Comtes de Champagne from Taittinger, a vintage wine made either as a blanc de blancs, from 100 percent Grand Cru Chardonnay, or as a rosé, made from Pinot Noir. The older, the better with these remarkable Champagnes — the 2004s are drinking fantastically now. And you can never go wrong with Krug — robust, rich, but always elegant and complex, it's a stunner and always a surprise depending on what the base vintage is.
After the Ball Drops
Don't let things die down: now is the time to bring out the rare gems. Château d'Yquem Sauternes, widely considered the world's greatest dessert wine made from grapes affected by botrytis (a fungus known as "noble rot"), is the perfect smooth drink with so much complexity that even your whiskey-loving friends will be converted to die-hard wine lovers now. It's also a good moment to bring out your "TBA" (trockenbeerenauslese, that is). These are German dessert wines made entirely from sweet, botrytised grapes, with a rich, thick consistency. Serve with creamy, high-fat French cheeses, or drizzled over vanilla ice cream. Another option? A true "ice wine" — white wine, usually Riesling though there are nice ones made with Grüner Veltliner, harvested literally in the snow, a rare treat made only in certain vintages, and delicious whether from New York State, Canada, or Germany. Your guests will already be clamoring for an invite to next year's soiree.