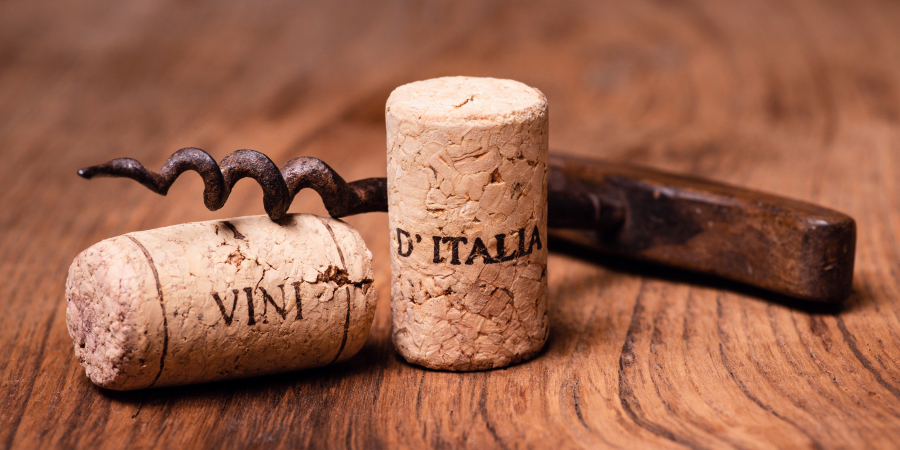 With over 1,000 native grape varieties, Italy has always been the land of the vine. From mineral-laden Chablis-like white wines to the volcanic reds of Sicily, there's an Italian wine for every palate AND every budget. Our store is stocked with classics and new-wave favorites from this Mediterranean hotbed, ready to ship today. 
2016 Benanti Etna Rosso DOC 
"Benanti's wines are among the best made on the volcano," says Wine Advocate. Every sip of this red transmits the deeply energetic character of its origins—40-year-old, free-standing Nerello Mascalese and Nerello Cappuccio vines. If you're not familiar with these two great indigenous grapes of Sicily, you're in for a treat: Think of Nerello Mascalese as the Pinot Noir or Nebbiolo of Etna, but with more spice. In that sense, every sip of this wine transmits tremendous volcanic character, and will thrill fans of Burgundy, Barbaresco, and Cru Beaujolais. In this season of hearty flavors, it's absolutely perfect. ($23)
2018 Noelia Ricci Il Sangiovese Predappio Romagna DOC
Standing up to heavyweights like Sassicaia and Masseto is usually an unfairly tall order, especially for a $23 red. But at a blind tasting with the Bay Area's top sommeliers, the Noelia Ricci Predappio more than held its own. A contemporary take on the classic Sangiovese grape, Noelia Ricci wowed a panel of Master Sommeliers, and continues to wow us every time we open a bottle with pizza, pasta, or steak. ($23)
Cerbaiona Rosso VDT Montalcino
A Sangiovese masterpiece in every sense, Cerbaiona's Rosso VDT is unique because of the estate's distinctive position on the edge between northern and southern Montalcino. Here, the Sangiovese grapes are both generously rich—imitating the voluptuous wines that the hot, flat terrain of southern Montalcino produce—yet fresh and structured, thanks to the higher altitudes and cooler temperatures of northern Montalcino. A true treat, the wine offers everything you want from your new favorite Sangiovese, and leaves you feeling like you're celebrating a piece of history with every sip. ($35)
2017 Diego Conterno Ferrione Barbera d'Alba Piedmont
The 2017 Diego Conterno Ferrione Barbera d'Alba Piedmont is a unique opportunity to taste the famous Conterno magic for less than $20. This single-vineyard Barbera is magnificent, the nose perfumed with classic Piemontese notes of lavender, roses, tar, and juicy black cherries, the palate mouth-watering and lively with blackberries, cranberries, and cherries. ($19)
2014 Guerrieri Rizzardi Amarone della Valpolicella Classico 3Cru
Amarone is a singular wine, made from a unique process that results in intense, concentrated reds with incredible longevity and an inimitable potpourri of flavors. Unlike most red wines, the grapes behind Amarone don't go instantly from the fields to the cellar. Instead, they're painstakingly dried—bunch by bunch—over the course of three months. Fermentation takes an entire month, allowing an incredible depth of flavor to develop alongside an abundantly rich texture, and the aging that follows is likewise slow. With every sip of the 3Cru, you'll find another inexplicable (but delicious) aroma or flavor, all resulting from the terroir of the three vineyards behind this blend, coupled with this incredible process. ($38)
2018 Ciro Picariello Fiano Irpinia Campania
We love Ciro's entire line-up, but for an introduction to Campanian whites, you can't do better than this 2018, filled with the freshness and perfume of the vintage and touched with the coolness of vineyards perched at 2,100 feet above sea-level. Take the favorite parts of your other dry whites—the waxy, honeyed notes of Loire Chenin Blanc, the vibrating acid spine of Grüner Veltliner—morphed into a volcanic rock expression of the southern Italian coast, and you've got a close approximation of this rockstar white, and why it commands such a fervent following. Robert Parker's Wine Advocate calls this a "cult winery" and wonderingly notes: "I'm not sure how Ciro Picariello and his winemaking team do it. These are some of the top wines you can find in Campania."
2018 Corte Sant'Alda Soave Veneto
This is one of the few Soaves to ever make the cut at Wine Access. Bursting with summer peach, Meyer lemon, and an uplifting mineral tone, we're confident it'll leave you just as impressed as it left us. Corte Sant-Alda is located in the heart of the Soave zone, with the jagged Alps in the backdrop. This is where Garganega grapes thrive in the volcanic soils that mark the Soave zone, and that Corte Sant-Alda converted to biodynamic in the mid-1980s—a tough harvest convinced the estate that converting would inspire ripe and healthy grapes. Since then, they've grown to be one of the most recognized biodynamic producers in Italy.
2018 Graci Etna Bianco DOC
With all the mineral verve we'd expect from the slopes of Etna's active volcano, the purity of this Bianco defies its price and then some—and given its 3,300-foot-high vineyard source—so does its provenance. "Beautiful," summarized Wine Advocate's Monica Larner, adding it's "[just what] I adore in a white wine." A classic blend of Carricante and Catarrato, the drama of this wine unfolds slowly as the crisp top-notes deepen into a salty preserved lemon component after a few swirls before expanding beyond citrus into green plum and perfumed white flower. 
2015 Andretta Brunello di Montalcino
Andretta is the bottle you walk into the wine store looking for, but never find. A 94-point Brunello from a top vintage, we've got it at half off. Made from Sangiovese grown in the warmest region of Montalcino, shielded from easterly winds while exposed to maritime breezes from the west, Andretta embodies the Brunello style that is big, full-bodied, and dense. It's a place unique as well for its alternating layers of sandstone and volcanic subsoil, which help supply terrific mineral and herbal complexity.