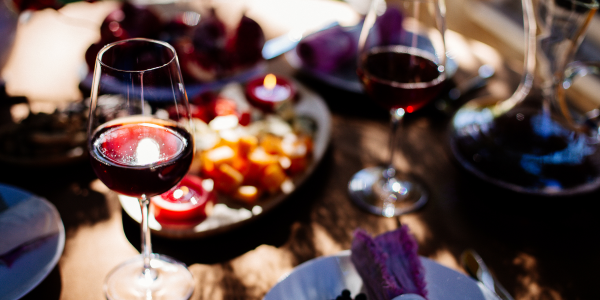 Fall is fast approaching, which means the entire world will soon be indulging in pumpkin spice lattes.
Not us. When noon—OK, when 11 am—rolls around, you can bet that wine is the only beverage on our mind.
So check out our Wine Team's favorite fall wines. From early-afternoon sippers to tried-and-true Turkey Day standbys, these bottles will take off the chill, pair perfectly with autumn dishes, and give you and your family and friends something to toast with well into next year!
Eduardo Dingler:
We're thrilled any time we can get our hands on a great decade-old Rioja—especially when it's Monte Real's Gran Reserva. A beloved member-favorite boasting an amazing combination of age, value, and quality, the 2011 is a classic in the making.
This brand-new French import is one of the most memorable and delicious Chablis we've tasted in years—and for our members only, a Burgundy bargain with few rivals. Top Chardonnay quality for an incredible price!
Robert Emery:
Domaine de la Solitude's 2018 is a 94-point star of Pessac-Léognan, the corner of Bordeaux known for pricey wines like Chateau Haut-Brion. With an elegant structure and soaring aromatics, it's a cellar-worthy standout.
The NY Times called Arnot-Roberts "superb," and the SF Chronicle named founders Duncan Arnot Meyers and Nathan Lee Roberts heir Winemakers of the Year. The very first to put Ribolla on a US wine label, their graceful rendition comes from a coveted Napa site.
Laura Koffer:
It's rare that we find a stellar Barbaresco that's ready to drink right now—especially at a price like this one. This was the discovery of one of our trips to New York, and we took all we could. Now we're thrilled to share it with you.
The iconic Billecart-Salmon made this "seamless and complete" Blanc de Blancs from the best Grand Cru parcels on the Côte des Blancs. It's bottled artistry from an estate that boasts a 4.9-out-of-5 rating from Wine Access members.
Vanessa Conlin, MW:
This 2018 is a "brilliant" bottle from one of the Rhône's most exciting winemakers. A striking representation of Ogier's elegant style, this shows why collectors and Michelin-starred restaurants line up for his Côte-Rôties.
Once a great wine from an appellation like Savennieres finds its way into your glass, it'll stay on your mind for an eternity. This is a serious Loire standout—a back-vintage bottle that no white-wine lover should miss.
Master Sommelier Sur Lucero:

Von Winning's dry Estate Riesling offers up one of the most stellar values of the year. From a historic producer in one of the most undervalued regions on Earth, it's crafted from the best crop in a half-century.
From the estate behind what Vinous calls "some of Italy's best and most ageworthy white wines," Bucci's 95-point Editors' Choice 2019 is an anytime wine that represents one of the most fabulous values in the Old World.