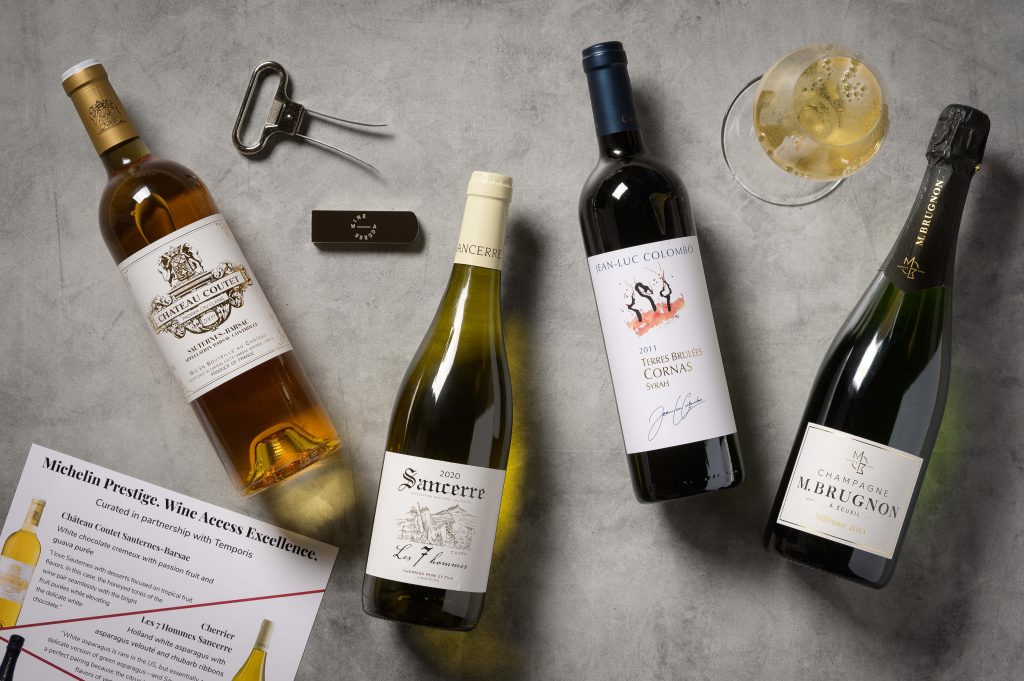 Our best wine discoveries aren't made by chance. They're often made by sitting down with the tastemakers, the insiders, the people with their fingers on the culinary pulse. And for me, a late-July evening at Michelin-starred Temporis in Chicago was a perfect embodiment of the Wine Access mission—a way to bring you, our members, straight to the source.
Sheltered from the humidity that welcomed us Californians to the Midwest, I joined a handful of our awesome Michelin Subscription members to taste through a curated menu and wine pairings with the Temporis team.
When we arrived, beverage director Don Coen and executive chef Troy Jorge were waiting, eager to share their work. And they left every single one of us in awe. I was holding out my glass for a second pour of the remarkably powerful, perfectly aged 2011 Jean-Luc Colombo's Terres Brûlées—Wine Enthusiast's top Cornas of the 2011 vintage—alongside savory Wagyu dumplings.
The triple-96-point 2009 Château Coutet Sauternes-Barsac—empowered by one of the region's best vintages ever and Mouton-Rothschild expertise—added further richness and complexity to a foie gras PB&J. And I can't leave out the 2016 Le Petit Caillou de Ducru-Beaucaillou, a rich, complex red from an all-time-great vintage and some of the most precious terroir in St.-Julien.
This is what our Michelin Subscription offers—wine recommendations that come straight from the greatest culinary minds in the nation. These are the rare and world-class selections from a one-of-a-kind combination of culinary mastery and careful wine curation.
That's why—even though I'm knee-deep in wine discoveries every day of the week—I'm a member of our Michelin Subscription, as is a good chunk of the Wine Access team. I'm always thrilled to see these shipments show up at my door, and they never last long, especially when I want to impress guests with an incredible wine pairing.
After the plates were cleared and bottles emptied, we stuck around, chatting with Don, Troy, and Ryan Hilley from the Michelin Guide Experiences team, who brought up a couple more bottles from the cellar. We talked wine late into the night, gaining insight on the industry from a trio that's soundly at its forefront. And I couldn't be more excited to bring their expertise to Wine Access members.
That excitement totally eclipsed my eagerness for the meal—not an easy task. And throughout my return flight, the only thing on my mind was the day I could share the experience with you.
Today's that day. From Bordeaux standouts to hidden-gem Champagne, Spanish icons, and world-class Riesling, you can get a taste of the Temporis wine list here.
Joe Fisch
CEO
Wine Access