story by Matt Deller, Master of Wine and Chief Wine Officer
In 1995 when I was a young guy, just starting out in the wine industry, one of the seminal experiences for me was helping Warren Mason with the Sydney International Wine Competition Top 100 roadshow in Auckland. I was working for Bob Campbell MW at the time, helping out at Bob's wine school, the Wine Gallery, and Bob recommended me to Warren. My job for Warren was to open all of the boxes of Top 100 wines that had been transported over from Australia, and place them on tasting tables in order – from sparkling to fortified.
What made the experience so influential is that I then had the chance to taste all of the wines before anyone else, to check bottle condition. There was a booklet with all the judges' comments, which I read through as I tasted each wine, calibrating my palate with some of the best tasters in the world. It accelerated my learning considerably, each wine a classic and high-quality example of its style, each tasting note a nugget of learning.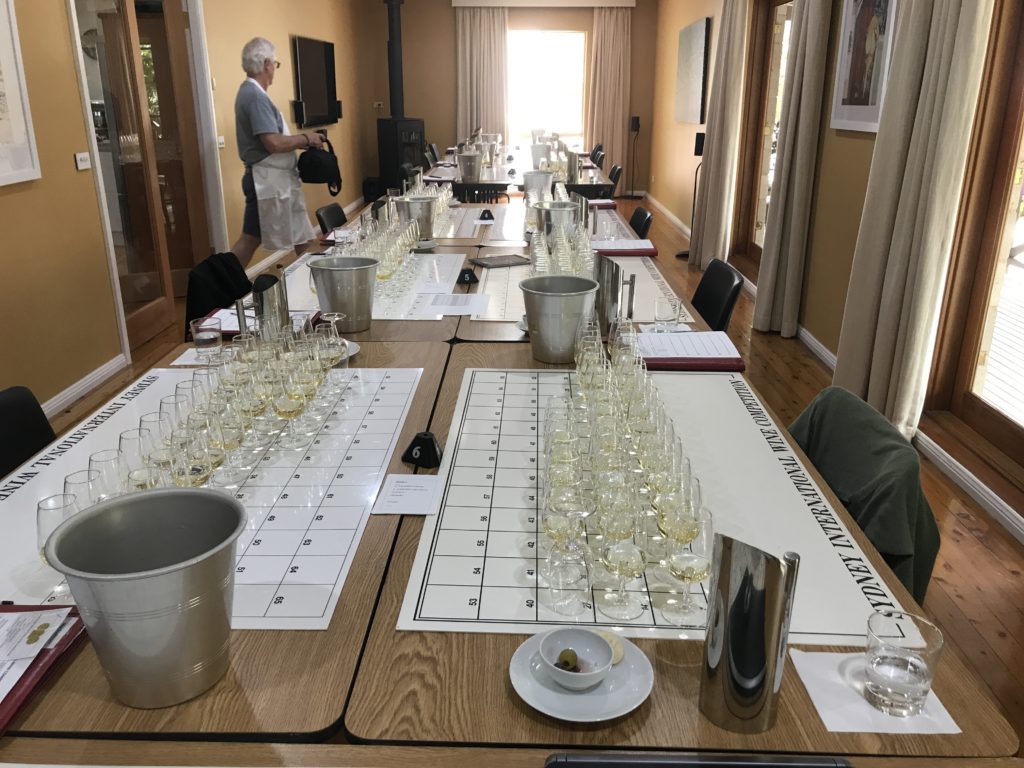 So it was a heartwarming experience to come to the Blue Mountains in October to judge the 2018 Sydney International Wine Competition (SIWC). Now living in Napa, California, I flew direct from San Francisco to Sydney, walked straight off the plane and caught a cab to where the bus to the Blue Mountains was departing. I had heard great things about the new competition owners Brett and Michaela Ling who had since purchased the SIWC. They were certainly gracious hosts throughout the competition, so it was a great start after a long flight to be greeted warmly by Brett, who doubled as our bus driver.
That day we checked into the beautiful Lilianfels hotel, toured the competition venue and met the maestros who cook the food throughout the competition, and the wonderful men and women who serve as show stewards.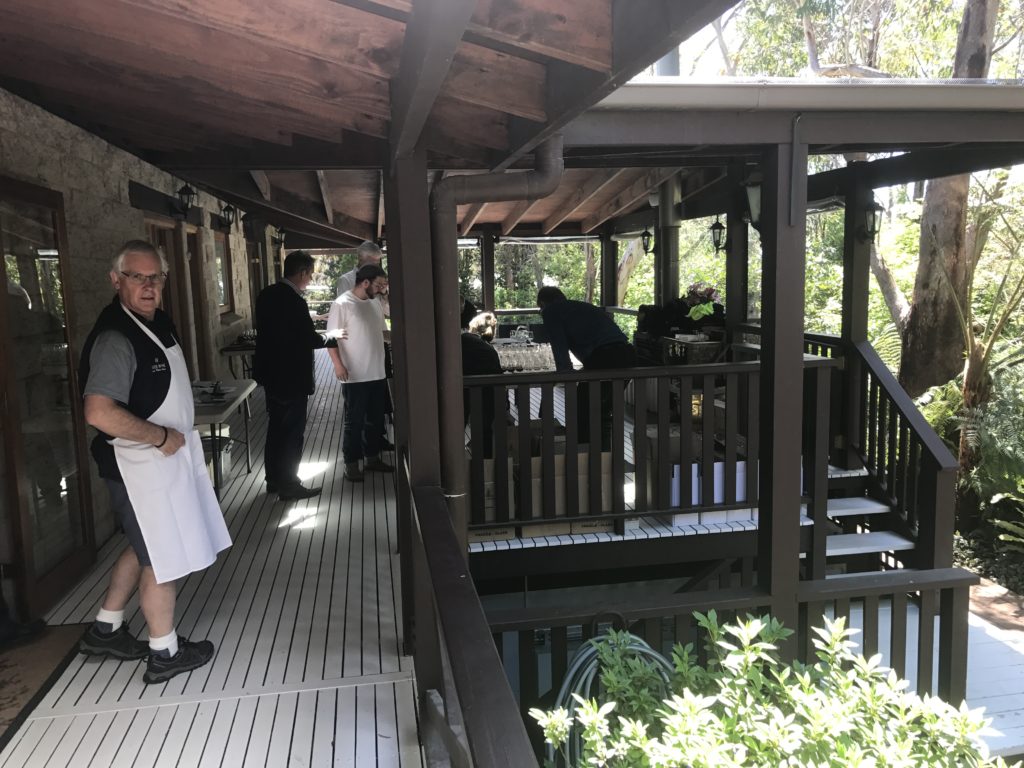 Of course, what makes the SIWC different from other wine competitions is that the wines are judged once for pure wine quality, then again with complementary food. In much of Western Europe, wine and food have always been enjoyed together, and rarely apart.  In the New World, however, we have been slower to develop a culture of gracious living with wine and food enjoyed in harmony. In the past few years, though, it has become the norm, thanks to the efforts of people who knew how gracious living with wine and food can enhance people's lives, most notably Len Evans in Australia and Robert Mondavi in the United States. The SIWC has undoubtedly contributed to spreading the word about wine with food and is ever more relevant.
The first day of judging proper was familiar ground. I was partnered with Meg Brodtmann MW and we judged several flights of wine without food, selecting the best twenty percent in each flight to be brought up to Chairman of Judges Kym Milne MW's for final selection. That night we all went to an excellent restaurant for dinner, to which we all brought wines to share. Always, one of the highlights of any wine competition are these bring-a-bottle dinners, where equally wine-obsessed people can geek out on great wines without fear of the eye-rolling that entails when I am at home with my wife and kids.
Before bed that night, I Facetimed with my wife, and she was concerned about very strong winds, power outages and fire warnings on Atlas Peak Road, back home in Napa. However, at that stage, neither of us had any idea of how bad it was going to get. When I woke up next morning, my family had evacuated from our home, and the entire valley was under threat of fire. Thankfully, our wonderful neighbors had helped with the evacuation, and the family was safe in Fairfield forty minutes to the east. Despite every instinct telling me to jump on a plane and fly home, my wife reassured me that they were OK, had everything they needed and were renting a car and driving down to our old hometown of Alameda, in the East Bay of San Francisco.
The only thing to do at that stage was to throw myself into judging and try not to worry about what was going on back home. That day I was on "the snake," which is a clever way of clustering the wines into their respective style categories – Lighter Bodied Dry White Wines, Medium Bodied Dry White Wines and Fuller Bodied Dry White Wines, Lighter Bodied Dry Red Wines, Medium Bodied Dry Red Wines and Fuller Bodied Dry Red Wines.
Sparkling Wines, Aromatic Wines, Semi Sweet White Wines, Rosé Wines, Dessert (Unfortified) Wines, Sparkling Red Wines and Fortified Wines are fairly self-categorizing. And Sauvignon Blanc and Pinot Noir have their own categories. But for the remaining white and red wines, the only way to categorize them is by taste. We tasted through every wine, moving the location of the bottle to place them in order of body. It was a fun exercise, and not leaving anything to chance we went through all of the wines again to be doubly sure they were in the appropriate order.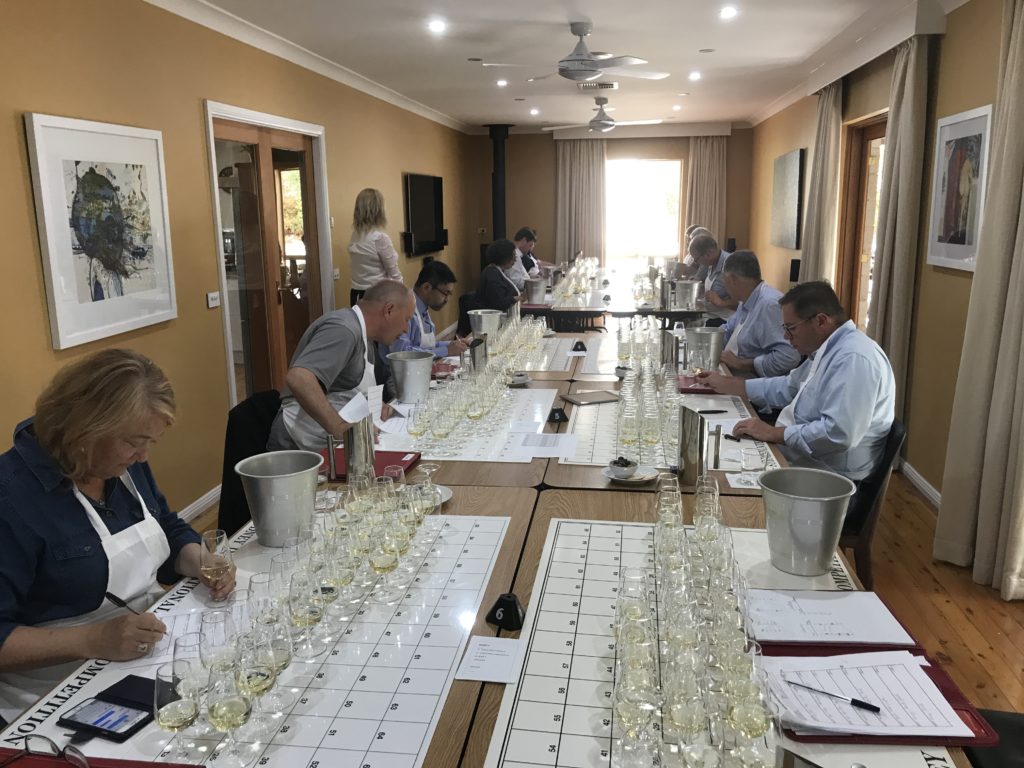 We then began what I had been looking forward to, and intrigued about, the most when coming to judge the SIWC – judging the wines again with food. It's a fascinating and worthwhile process. We twelve judges were put into two groups of six, with Kym as chairman straddling both panels, and the re-selected wines were poured in flights within their style categories. We were asked to score the wines out of 10, which would be totaled up to a panel score of 60, to identify which wines earned final awards. We judged conventionally, until we had scored all of the wines, then out came the food. There is a little bit of logistics required. If the flight was 24 wines, I sliced my dish into 24 equal sized servings with equal amounts of each element of the dish to ensure every wine was being judged fairly. I was surprised how many of my scores went up or down one or two marks when judged again with the food. For example, If a red wine had poorly managed or green tannins, was excessively oaky, or was heavily acidulated, I found that food accentuated those properties and I marked them down, whereas some elegant, beautifully crafted wines I scored up with the food as the wines accentuated their balance, harmony and finesse.
With wildfires spreading throughout California wine country I was unable to attend any more of the social events over the subsequent two evenings. I spent my time, either Facetiming with my family, or working. As Chief Wine Officer for direct-to-consumer wine marketing company Wine Access, the fires were also impacting my team and our winery partners, and I was frantically in contact with them to assess their situations also.  
Brett and Michaela were incredible. I asked them if I could fly home immediately after the last flight with food, and they went to great trouble booking these earlier flights and arranging that fellow judge and longtime friend Mike Degaris would drive me to the airport. I will be forever grateful to them, Kym Milne MW and all of my fellow judges, who were so supportive throughout the week.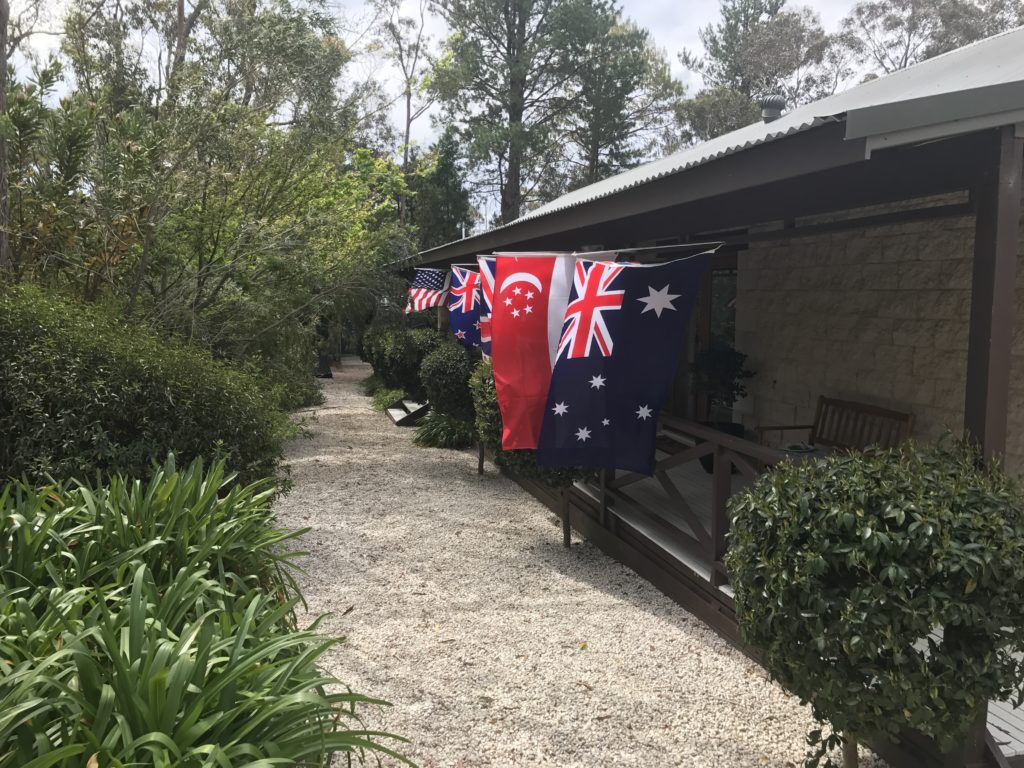 The last morning's judging was frantic. We started early so that I could catch my flight, and Mike and I judged a flight of more than forty medium-bodied reds with food. We were committed to giving them the same time and attention we did with every other flight, so we left a little late, but thankfully Mike's excellent driving got me to the airport in time.
As soon as I landed at SFO, I drove straight to Fairfield where my wife was dropping off her rental car, and we drove to the house.  As soon as we drove over the hill into Napa County, we were enveloped in smoke and the smoke got thicker as we got closer to our house in the west of the valley. We had to wear gas masks, even while driving the car. The house was still intact, and incredibly the smoke hadn't permeated inside. The power had been out for five days, so we needed to clean out all the rotten food in the fridge and freezer. We replaced all of the filter pads in our air conditioning, which was interesting as we had to go far afield to find a Home Depot with any left.
Lots of work needed to be done to get the house ready to move the kids back. We camped with friends in Alameda, and taking turns making preparations up in Napa while trying to make sure the kids stayed happy and healthy down in Alameda.
Meanwhile, at Wine Access, we ran a campaign that donate over $28,000 to the relief efforts, and as a company we all volunteered to help the relief efforts. Now, Napa is settling back into its groove, and most importantly, people are coming back to visit the wineries.
Judging the 2018 Sydney International Wine Competition was a great experience. It was exciting to judge with such great wine professionals and I loved the unique structure of the show. I learned a lot, and really enjoyed everybody's company. I was grateful for everyone's support during the show. Also, it was humbling to spend time with them; it never ceases to amaze me how genuine and caring the wine industry is. I hope to go back and judge the 2019 show; this time I will bring my family with me!