At Wine Access our goal has always been to bring wines to life in a way that is informative, entertaining, humorous, and unpretentious—which is why we've invited some of the best storytellers in the world of wine to join us in our new Author Series. 
Together with several of the industry's most prominent voices, we're creating exclusive virtual events and video experiences, and offering access to their books.
We're kicking off the series with celebrated journalists and wine experts Dorothy J. Gaiter and John Brecher, whose love for each other and writing grew with thier love of wine. Tasting and studying wine since 1973, their beloved book Love by the Glass: Tasting Notes from a Marriage, chronicles their journey into wine, and has inspired generations of wine lovers. 
What wine are you drinking right now? What do you love about it? 
Like many people in lockdown, we've decided, taking our own advice, to open more special bottles and celebrate Open That Bottle Night far more often. More than ever it's clear that no one is promised tomorrow. We recently had a 1981 Ravenswood "Dickerson" Zinfandel that was still beautiful. There is something about older wines that gives us a sense of permanence. That and their beauty and wisdom convince us that this, too, shall pass.
How did you fall in love with wine?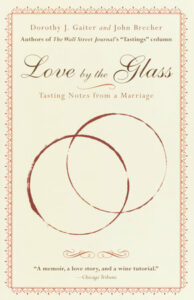 It's a long story – in fact, that's what our memoir, "Love by the Glass: Tasting Notes from a Marriage," is about. We met on June 4, 1973, on the day both of us started at The Miami Herald, right out of college. We were both 21. It was a wonderful time and place to be a journalist, but quite intense. Neither of us grew up around wine, but we tried a few bottles and fell in love with it. We found that wine helped us to slow down, relax and reconnect with each other.
What wines inspire you?
Well-made, thoughtful wines. A stunning German Riesling makes us want to weep, '59 Latour had layers that we couldn't have imagined and fine Burgundy has a sense of place that takes us there. We recently had some Virginia wines made by the late winemaking pioneer Dennis Horton and we could taste his vision in those bottles. Far too many wines these days are mass-produced; they have no sense of place and no sense of a winemaker's soul or vision. They might be pleasant, but they are certainly not inspiring.
What do you wish more casual drinkers remembered about wine and wine enjoyment?
No one knows your taste better than you do. If you enjoy a wine, it's a good wine. Trust your taste but don't stop there. If you like a certain kind of wine, talk with a friendly merchant about another wine that might be a bit different. Stretch. There's a big world of wine out there. You'll never know what you like 'til you pop the cork.
How do you think the wine industry has changed since you first started your WSJ column?
The good news is that more tasty wine is coming from far more places than in 1998. It's hard to believe now, but when we wrote about Malbec from Argentina in 1999, it was difficult to find enough for a tasting (We usually tasted at least 50 wines for each column.) Laura Catena said our resulting column was the first major article about Malbec in a big mainstream U.S. publication and it gave Argentina's wine industry a big boost. New Zealand, South Africa, Chile – so many places now are making better wine and it is more widely available in the U.S. Croatia is coming on strong. Domestically, there's been explosive growth in Washington and Oregon and wine regions all over, from Michigan to Texas. The bad news is that giant corporations are pumping out mass quantities of industrial wine that might turn off would-be lifetime wine lovers since it's hard to know who and what are behind the eye-catching packaging.
How has your approach to wine changed since that time?
It really hasn't. When we first started drinking wine and learning about it, in 1973, we enjoyed talking about the wine in front of us – what it tastes like, what the winemaker's vision might have been – and finding out more about it. It's just that since we began writing about it, in 1998, we've been doing that for an audience. And, of course, with our decades of experience assessing wines for ourselves and for readers, our appraisals have become more informed, sharper. We have far less tolerance for what we call "stupid wines" and greater appreciation for the rare stunners.
What was the first wine book you ever read? What wine books inspired you, or influenced your own book? 
When we were first learning about wine, we found a great wine merchant. We gave her a budget of $72 per case and she always put together an interesting selection. Then we'd go home and look them up in Hugh Johnson's "World Atlas of Wine" and Leon Adams's "The Wines of America." Those books and others told us where the wines were from and their history. They helped us understand that what we were drinking was more than a liquid – it was geography, history, personality, Nature. Earlier this year, the University of California at Davis asked us to donate our papers to the Warren Winiarski Wine Writers Collection, part of the world's greatest wine library. The papers of Johnson and Adams are there, too. We're still pinching ourselves.
Open that Bottle Night is coming up–any idea what you'll be opening?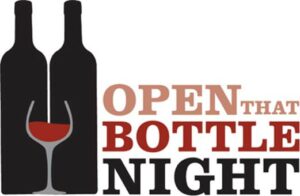 We invented OTBN because all of us, whether we have one bottle in the house or a thousand, have that one wine we can never stand to open because it's "too special." We have several bottles like that, even though we've been opening them more frequently over the past few months. We can never decide until the last minute – but it will not be our bottle of "Always Elvis," with a picture of The King on the front and a poem by The Colonel on the back. We are saving that until Elvis reappears.
What's your guilty pleasure wine pairing?
Hmmmmm. We really don't have one. Our feeling is that no pairing should be off the table (literally). Have you ever tried a dry Lambrusco with roast chicken? It probably sounds weird, but it's delicious.
What's one wine myth you'd like to dispel permanently?
People have been given the impression—in many ways and for decades– that they have to become an expert on wine before they can enjoy it. For heaven's sake. Nobody says you have to become an expert on art before you can go to a museum or understand lefty-lefty matchups before you can watch baseball. Folks should feel comfortable enjoying wine on their own level. We hope people will enjoy wine enough that maybe they will want to know more about it, and as they know more about it they will enjoy it more, which will make them want to know more – a virtuous cycle.