Pizza and beer? Puh-lease! We say wine does a better job of elevating the humble yet majestic pizza—and which bottle to pair with your pie depends on your toppings of choice. From no-brainers like mushroom to the vexing "combination" pizza and the always-controversial Hawaiian, we've chosen some fine wines to make your next slice extra nice.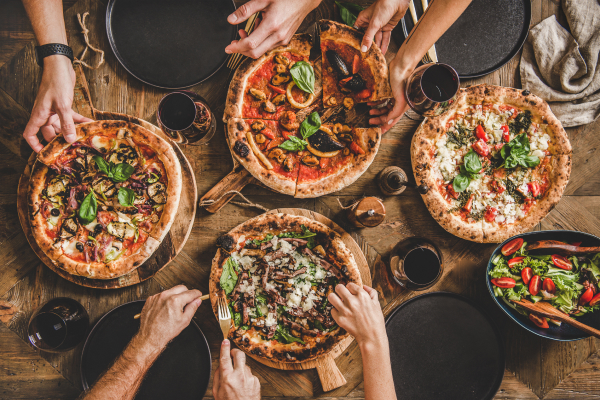 Pepperoni Pizza & Syrah
There's a reason why pepperoni is a classic pizza topping: It adds just the right amount of spice to traditional cheese pizza. Lovers of pepperoni should reach for a full-bodied Syrah, which will match the spicy, meaty notes while adding juicy dark-fruit flavors and bright, palate-refreshing acidity.
---
Margherita Pizza & Sangiovese
Because of its Italian origins, some might argue that Sangiovese is the best red wine to have with pizza, period. While there are clearly plenty of other excellent pairing options, Sangio definitely fits the bill for a pizza as classically Italian as the Margherita. The bright red-fruit notes and herbal undertones do wonders for highlighting the Margherita's fresh tomato and basil flavors.
---
Veggie Lovers & Tempranillo
For those wondering what wine goes with pizza laden with veggies, look to Spain's classic grape variety. Whether from Rioja, Ribera del Duero, or another of the country's Tempranillo-focused regions, this Spanish grape brings tangy red fruit to complement the pie's tomato sauce, and plenty of herbal and earth tones to highlight any veggie under the sun, from green bell peppers to roasted mushrooms (yeah, yeah, we know—technically not a veggie).
---
Hawaiian & Chardonnay
Pineapple and ham on a pizza is often divisive, but the best pairing for the pie need not be. We'll take the rich, tropical flavors of Chardonnay from sunny California or Burgundy's Mâcon region. It matches the Hawaiian's fruit—which the haters will say doesn't belong anywhere near pizza—and provides a delicious contrast to the salty ham, resulting in a pairing so spot-on that it will turn any naysayer into a believer. Can you guess which side we're on?
---
BBQ Chicken & Zinfandel
The bold, sweet richness of barbecue sauce calls for a full-bodied wine that won't overwhelm this pizza's mild meat. Enter Zinfandel, unequivocally the best choice for pizza topped with barbecued chicken. The wine's concentrated fruit flavors and robust body can hang with the zing of the sauce, and the texture is so smooth it doesn't threaten to overwhelm a thing. 
---
Mushroom & Pinot Noir
Can we just tell you that one of the most sublime wine experiences of our life happened when we took a half-drank bottle of Échezeaux to an all-night pizza place in Los Angeles and finished it with a mushroom pie? The wine doesn't have to be Grand Cru, of course. Pinot Noir from all over the world—California or Oregon, New Zealand or Burgundy—makes a perfect pairing. 
---
Pesto & Sauvignon Blanc
Pizza topped with garlicky pesto and creamy mozzarella can quickly become rich and heavy, so brighten this pie up with a zingy Sauvignon Blanc. The bright snap of acidity and signature herbal flavors of the wine  will bring just the right amount of lift.
---
White Pizza & Champagne/Sparkling Wine
It's tough to go wrong when pairing Champagne with anything, but sparkling wine thrives when matched with savory dishes like white pizza. A sparkling's clean, lemony acidity and scrubbing bubbles will refresh the palate between cheesy bites while adding layers of mineral complexity.