Some say pizza and beer is a classic duo for a reason, but nothing elevates this take-out staple like a delicious pizza and wine pairing. The best wine to pair with pizza, however, really depends on your toppings of choice. From spicy pepperoni pizza to the controversial Hawaiian combo or cheese-covered white pizza, the best wine with pizza changes from one pie to another.
Don't worry—if you're pondering what wine is best with pizza, we've got you covered. No matter what might top your slice, to take a standard pizza night to the next level, just add wine.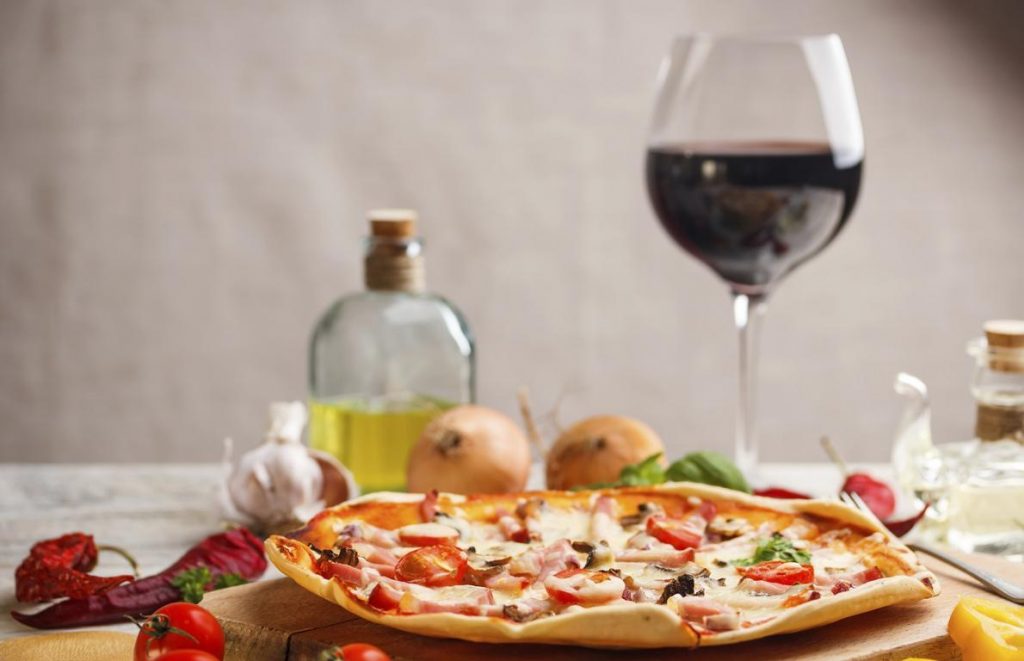 Pepperoni Pizza & Syrah
There's a reason why pepperoni is a classic pizza topping—it adds just the right amount of spice to traditional cheese pizza. Spicy pepperoni pizza lovers should reach for a full-bodied Syrah, which will share those spicy, meaty notes while adding juicy, dark fruit flavors and bright acidity to refresh the palate.
Margherita Pizza & Sangiovese
Because of its Italian origin, some might argue that Sangiovese is the best red wine to have with pizza, period. While there are (clearly) plenty of other excellent pizza wine options, it is definitely the best red wine with pizza that is as classically Italian as the margherita. Sangiovese's bright red fruit notes and herbal undertones will highlight the margherita pizza's fresh tomato and basil flavors.
Combo & Gamay
The combo pizza—sometimes called a "supreme"—has a lot of flavors going on: pepperoni, bell peppers, olives, onions, sausage, and mushrooms, to be precise. The last thing this pizza needs is a bold, rich wine adding more competing flavors, so easy-drinking Gamay is definitely the best pizza wine pairing in this case. Bonus: if you're looking for the best wine for pizza and wings, Gamay's the winner. That subtle fruit and freshness will cool down even the spiciest of buffalo wings.
Veggie Lovers & Tempranillo
For those wondering what wine goes with pizza laden with veggies, look to Spain's classic grape variety. Whether from Rioja, Ribera del Duero, or another of the country's Tempranillo-focused regions, this Spanish grape brings tangy red fruit to complement tomato sauce and plenty of herbal and earth tones to highlight any veggie under the sun, from green bell peppers to roasted mushrooms.
Hawaiian & Chardonnay
Pineapple and ham on pizza may be divisive, but the best wine with pizza in this instance won't be. The rich, tropical fruit flavors of Chardonnays from sunny California or the Mâconnais will match Hawaiian pizza's signature pineapple while providing delicious contrast to the salty ham. This pairing may be just the thing to sway all of those naysayers to the dark side.
BBQ Chicken & Zinfandel
The bold, sweet richness of barbecue sauce calls for a full-bodied wine that won't overwhelm this pizza's chicken topping. Enter Zinfandel, unequivocally the best wine with pizza topped with barbecue chicken. Its concentrated fruit flavors and robust body stand up the chicken's sauce, but Zinfandel's texture is smooth enough not to overwhelm.
Mushroom & Pinot Noir
To complement the special umami flavors of mushrooms, there is no better wine than Pinot Noir. Earthy, mushroom-like flavors are hallmarks of red Burgundies in particular, though New World options from the Willamette Valley or New Zealand's Central Otago would also carry these delicious, savory undertones.
Pesto & Sauvignon Blanc
Pizza topped with garlicky pesto and creamy mozzarella can become rich and heavy quickly, so brighten this pie up with a zingy Sauvignon Blanc. Whether from New Zealand or Sancerre, the bright snap of acidity and signature herbal flavors of Sauvignon Blanc will bring the right amount of lift to pesto pizza.
White Pizza & Champagne/Sparkling Wine
It's tough to go wrong when pairing Champagne with food—in fact, if you're wondering what wine goes best with pizza in general, this may be it—but this sparkling wine particularly thrives when matched with savory dishes like white pizza. Clean, lemony acidity and scrubbing bubbles will refresh the palate between cheesy bites while adding layers of minerally complexity.