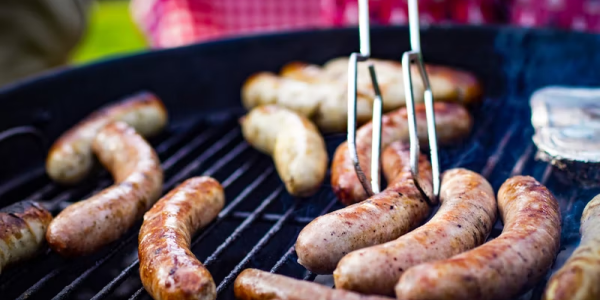 The path to pairing Nirvana runs through spice, fat, and flavor, and the best wines take on all three. They tame the heat, cut through the richness, and accent the smoky, tangy, and sweet sensations—all things that grilled sausages bring to the party.
With the 4th of July fast approaching and grills starting to sizzle, we figured it was prime time for pairing fine wine with flame-licked sausages. From kielbasa and creamy Chardonnay to bratwurst and bone-dry Riesling, these pairings will dazzle the palates of every carnivore crowded around your Weber (or Big Green Egg, if that's how you roll).
Read on for our favorite sausage pairings.
Sausage: Kielbasa
Wine: Creamy Chardonnay
Pairing Note: Puncture a perfectly grilled kielbasa and let the garlicky juices flow—then match it with a creamy Chardonnay. You can't beat the tangy-mild matchup!
Sausage: Andouille
Wine: Red Burgundy or Pinot
Pairing Note: The delicate smokiness from andouille pairs perfectly with Pinot Noir from all over the world—especially the dark, plush cherry-cola flavors that the richer versions bring. If the wine has that barrel-kissed smoky element, even better.
Sausage: Bratwurst
Wine: Dry German Riesling
Pairing Note: Rich bratwurst is only half the story—it's all about the traditional way you serve it, with cabbage, apples, and even zippy sauerkraut. The meat and the mélange of accompanying flavors call for the ultimate in white-wine versatility: dry German Riesling. Regionally appropriate, too!
Sausage: Italian Sausage
Wine: Brunello or Chianti
Pairing Note: Here's something you didn't know: In The Silence of the Lambs movie, Dr. Hannibal Lecter recalls pairing, um, liver with Chianti—but in the novel, he opts for Amarone. If he's like us (uh oh), he'd approve of saving bright, herbaceous Chianti for fennel-rich Italian sausage, straight from the grill.
Sausage: Chorizo
Wine: Ripe Syrah (or maybe a beer)
Pairing Note: Chorizo's FPG (flavor-per-gram factor, a metric we just made up) is higher than just about any other food on planet Earth, and few wine grapes can deal. Syrah, however, is one of the few that can. Its ripeness and richness make it a good match, so give it a shot—but if it doesn't work out, be sure to have a beer at the ready.