A refreshing glass of wine can complete a delicious fish meal—preferably enjoyed oceanside—but finding the best wine for seafood requires a delicate balance. While fish is typically lighter than poultry or meat, there are plenty of nuances within the seafood spectrum—and that's without taking different preparations into consideration.
Whether you're contemplating what wine goes with fish like tilapia or salmon, or which bottle is best with shellfish like crab or shrimp, the world of pairing wine with seafood is a delicious one to explore—so get ready to dive in.
White Fish & Sauvignon Blanc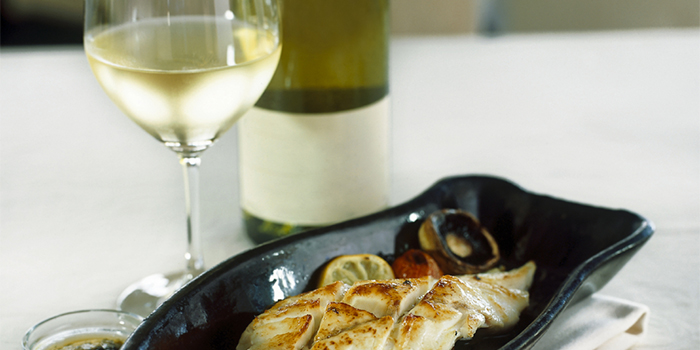 There's a reason why white fish is usually served with a slice or two of lemon: it needs a squeeze of citrus to make its freshness really sing. The same concept applies to this pairing. Sauvignon Blanc's zippy acidity and bright lemon-lime flavors make it the best wine with fish like cod and haddock
Lobster & Chardonnay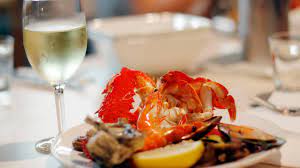 Lobster just wouldn't be the same without a healthy side of butter, and all of that richness just begs for a round yet well-balanced Chardonnay. This seafood wine pairing may seem a bit decadent, with the lobster's delicious sweetness and the Chardonnay's creamy texture, but it's totally worth it
Shrimp & Rosé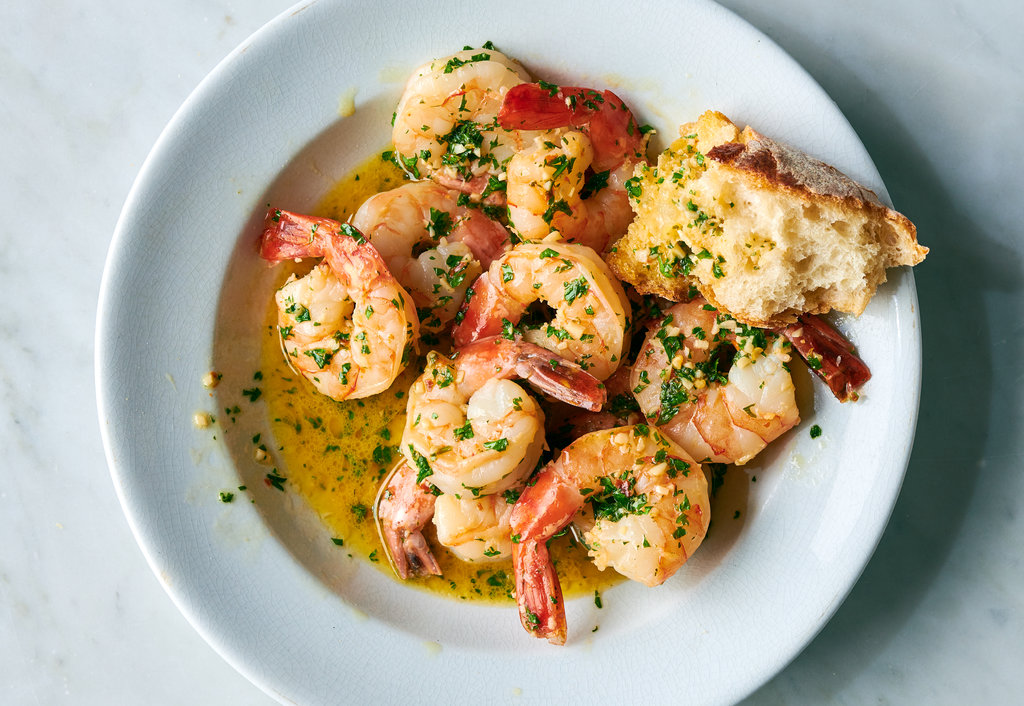 For a shrimp wine pairing that is harmonious regardless of preparation, turn to rosé; it will bring out the shrimp's touch of natural sweetness without overwhelming the shellfish's mild flavors. Plus, rosé encompasses a wide spectrum of styles and flavors, making it possible to pair rosé wine with shrimp cocktail, shrimp tacos, and everything in between.
Oysters & Champagne/Sparkling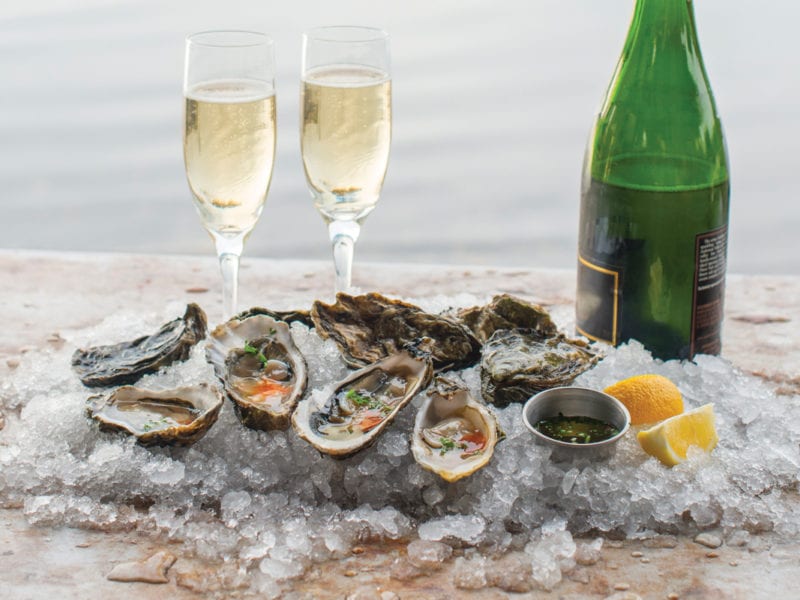 Oysters and bubbly—what's more luxurious than that? The chalky, sometimes salty notes of minerality found in some Champagnes heighten those deliciously briny flavors of raw oysters, while the combination of richness and acidity in others is perfect for rich dishes like oysters rockefeller. With its freshness and food-friendliness, sparkling wine may be the best wine for seafood, period
Salmon & Pinot Noir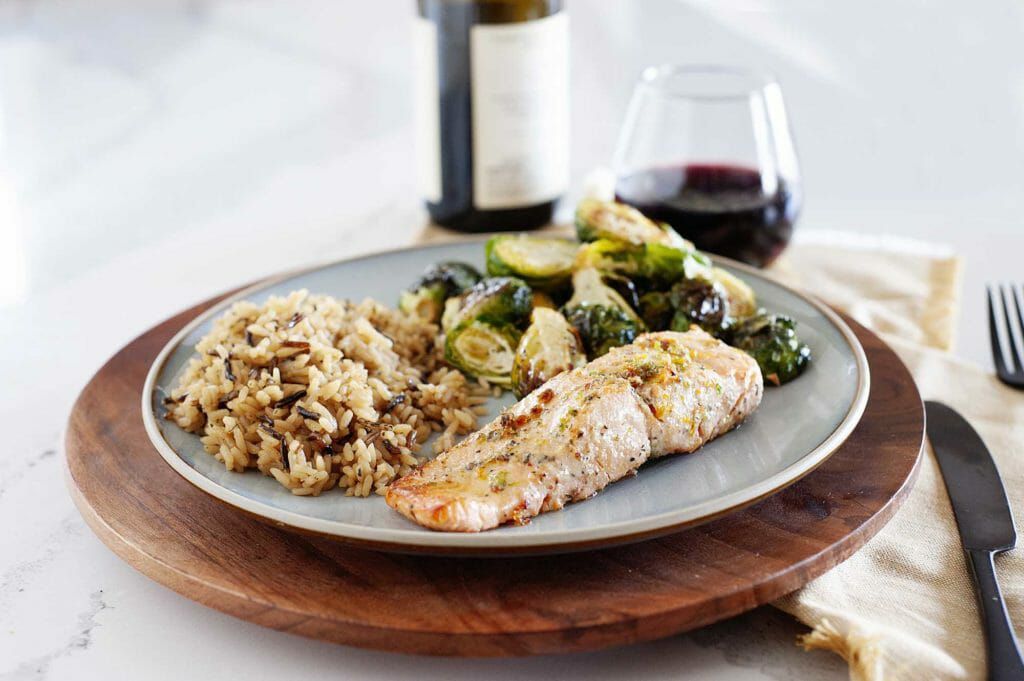 Some might be shocked at the idea of red wine with fish, but don't knock it until you try it. Salmon is a notoriously hearty fish, so it can handle a wine with a fuller body and more robust flavors. A lighter style of Pinot Noir will contrast juicy red fruit flavors with the salmon, and its smooth texture is a lovely complement to this rich fish.
Halibut & Chardonnay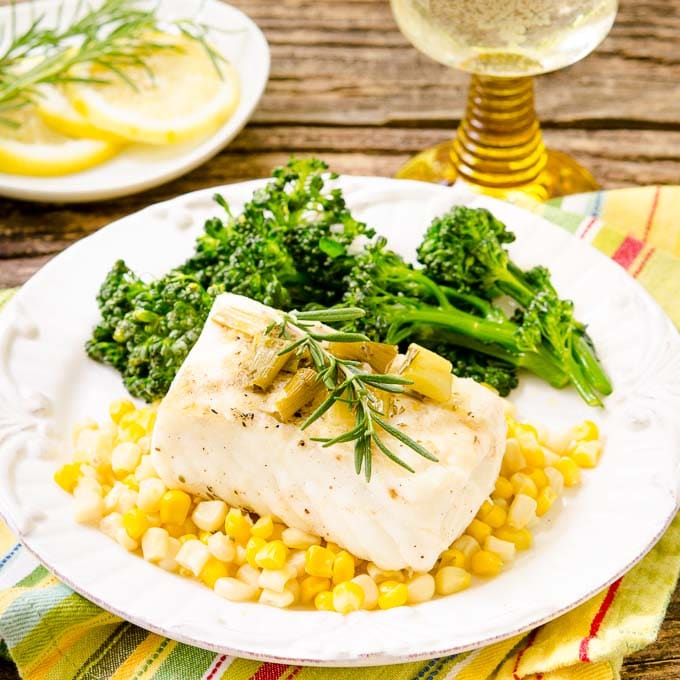 Halibut and Chardonnay share one key factor in common: versatility. This mild white fish can be seared or grilled, fried or baked, so its preparations are numerous. For the perfect halibut wine pairing every time, reach for a leaner style of Chardonnay like Chablis; its seashell-like minerality and racy finish are perfect for any flavor and texture.
Raw Preparations & Pinot Grigio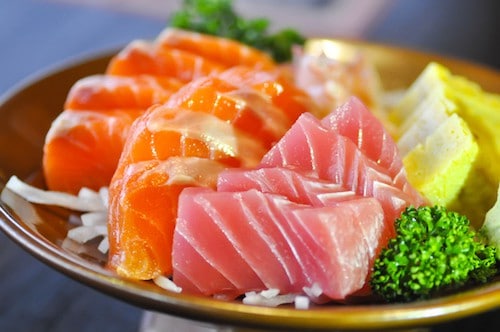 From ceviche to sashimi, raw fish dishes come in many forms and can be made with many different types of fish. Whether made with tuna or yellowtail, marinated in citrus or served atop a ball of rice, the best wine for seafood served raw is Pinot Grigio. Its mild flavors won't overwhelm raw fish preparations, but its fruit-forward flavors and crisp, dry finish add dimension to the dish.