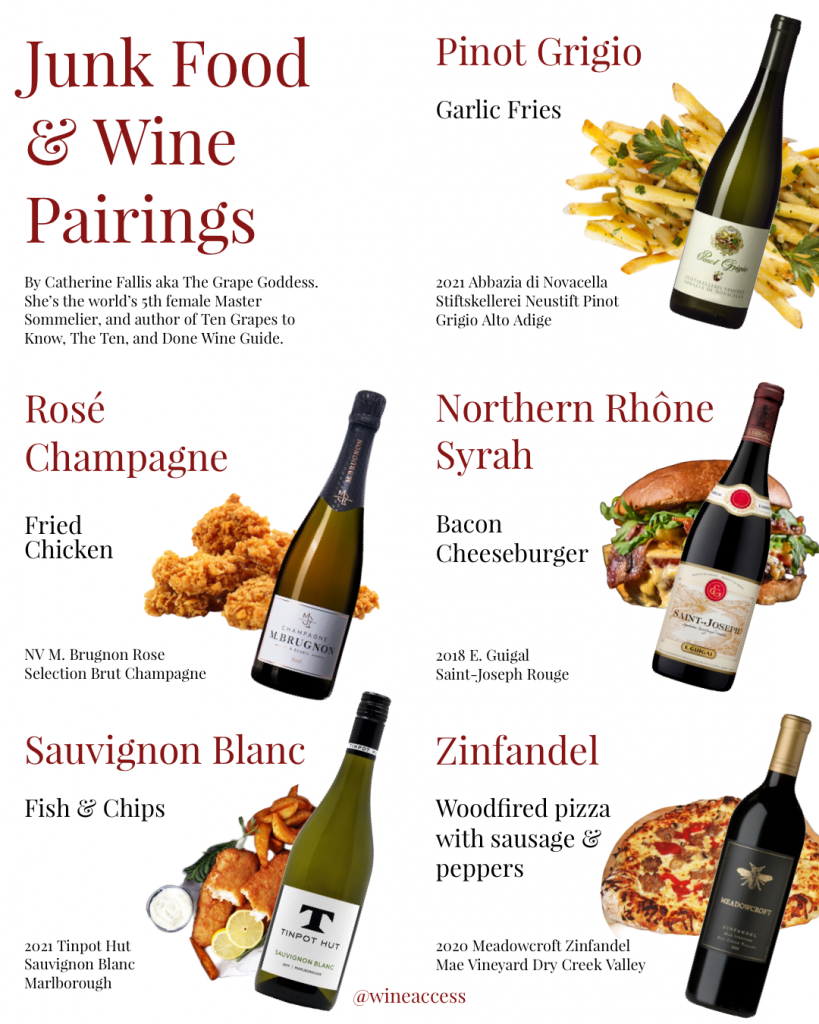 Burgers, pizza, chips, fries—we love guilty-pleasure foods. And since it's National Junk Food Day, you best believe we'll be enjoying a few of our favorites, plus the wines that complement them best. In collaboration with Master Sommelier Catherine Fallis (aka Grape Goddess), we've picked the perfect pairings for fast food runs and late-night snack sessions because, if you're going to indulge, you might as well go big.
Food: Garlic Fries
Wine: Pinot Grigio
Pairing Note: Pinot Grigio from Northern Italy is light, crisp, neutral, and lemony—perfect to soothe and refresh the palate after a mouthful of salty, crunchy fries slathered in garlic butter. The grape is simple and drama-free. The garlic fries are bold and assertive. Throw in some sunshine and you've got an ideal summer afternoon.
Food: Fish & Chips
Wine: Sauvignon Blanc
Pairing Note: Fish and chips is a staple in New Zealand, and there's perhaps no better pairing than Marlborough Sauvignon Blanc, so beloved the world over that it's now a global standard for this grape. The delicately breaded fried fish is fresh and tender, and it pairs delightfully with vibrant, zesty, bracing, crisp, and dry local "Savvys".
Food: Fried Chicken
Wine: Rosé Champagne
Pairing Note: Rosé Champagne isn't just for Valentine's Day. This decadent, well-aged Pinot Noir-based sparkling wine is the richest, most serious category of Champagne. While it's delicious with lamb or other meats, there's nothing as indulgent as taking a bite of crunchy, salty fried chicken, then sipping on this elegant, fine sparkling wine. Even with buttermilk fried chicken, this high-low pairing is a must-try.
Food: Bacon Cheeseburger
Wine: Northern Rhône Syrah
Pairing Note: The bacon Cheeseburger is an American icon, and it needs a bold wine to stand up to its rich, juicy, saltiness. Northern Rhône Syrah is up to the task. Full-bodied, earthy, and peppery, it doubles down on the bacon cheeseburger's savory decadence.
Food: Wood-Fired Pizza with Sausage and Peppers
Wine: Zinfandel
Pairing Note: One of America's most popular junk foods meets one of America's most historic wines. You could go with your favorite frozen pizza, but we'd suggest kicking it up a notch with a wood-fired crust, topped with tomato sauce, spicy Italian sausage (or vegan substitute), and peppers. Next, pop open a Lodi Zinfandel. Juicy, bright, fully fruited, and incredibly under-valued in the world of wine, it complements the spice of the sausage and herb-inflected rusticity of the sauce.